Hey Bloggers!
It's Friiiiday! We did it, only a few hours until the weekend – but before you go, can you help us out with something? It's time for tonight's 'Beat 360°.'
Everyday we post a picture – and you provide the caption. Our staff will get in on the action too.
Tune in every night at 10p ET to see if you are our favorite! Can you Beat 360°?
Here is today's "Beat 360°" pic of the day: Here we see a couple exchanging rings during an underwater ceremony at Hong Kong's Ocean Park .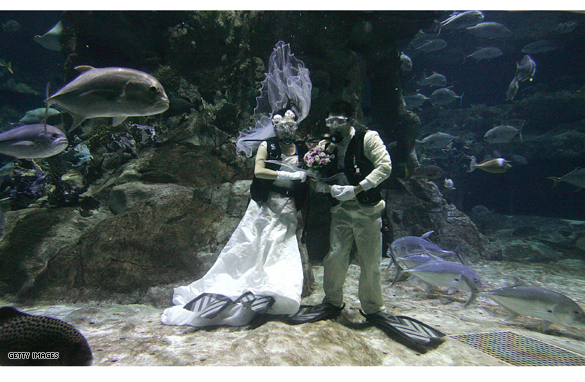 Here's one to get you started
'Love is in the air' as Sam and Betty decided to 'Take the plunge' and get married...
...Sam would later discover Betty's confession of having 'cold feet' was a product of poorly constructed flippers…
Have fun with it.
Make sure to include your name, city, state (or country) so we can post your comment.
– David Reisner, 360° Digital Producer