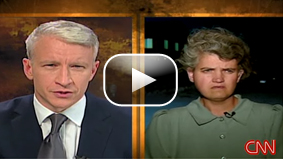 Kathleen, an FLDS member, tells CNN's Anderson Cooper that her children and grandchild were taken and she wants them back.
David Mattingly
360° Correspondent
I was standing face to face with women from the Yearning For Zion ranch and getting an idea of the difficulties investigators say they've been having for the past week and a half.
In a surprising move, the secretive, polygamist FLDS sect opened its gates and allowed us to go inside.
The first thing I was told was not to call the secured and secluded property a "compound." Some of the men objected to the term, preferring their home be called a "ranch."
We were guided a short way to a residential area where the women were waiting. They had just been removed from a state shelter and taken away from their children. They were hurt, angry and some were crying.
No questions were off limits, but most of these mothers seemed very sensitive about telling me how old they were when they married. Most said 18.
Everyone I spoke with insisted that no woman was ever forced to marry, but there was frequent hesitation when I pressed for details on whether or not women under the age of 17 were being married to adult men, as the state alledges.
Most women would not give me their last name. Every time I pressed for answers I was told that all they were concerned about is getting their 416 children back.
This much I'm sure is true.
Comments to the 360° blog are moderated. What does that mean?