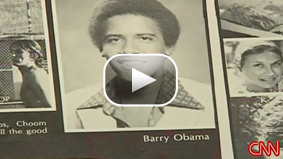 AC360 looks at Barack Obama's journey of self-discovery, and the choices that put him on a path to the White House. Full report Tonight 10p ET
Catherine Mitchell
360° Producer

The assignment was pretty straightforward: produce a profile on Barack Obama. Now for the twist: focus on a theme or a narrative that runs throughout the presidential candidate's life. Obama's life is full of narratives that have shaped him - his mother's strong influence, his father's glaring absence, his multi-cultural, bi-racial background. But what came up over and over again in interviews with Obama's closest friends and associates, is his life-long search for identity.
Obama was born in the racial melting pot of Hawaii. The son of an African father and a white mid-western mother, he grew up with a palpable confusion over where he fit in. Obama's community organizing boss, Jerry Kellman, told me Barack wanted to live in two worlds, but society said, "you choose, you're going to live in a black world or a white world." He was raised in a white world, brought up by his white grandparents in Honolulu where he attended an elite prep school and was very much in the minority. Obama's high school crush Kelly Furishima said if he was struggling, he hid it well with his great sense of humor and easy way.
But one of Obama's closest high school friends, Keith Kakugawa told me that he knew the real Barack (or Barry as he was known back then). "If you interview anybody else, they'll tell you about this great smiling happy kid," he said. "Except for me, I won't tell you that, because that isn't true." Kakugawa says that Obama blamed himself for his father's absence, and that he felt abandoned by his mother, who remained in Indonesia while his grandparents raised him. Like plenty of adolescents, his friends say, Obama felt untethered, insecure about his identity. And his complicated family situation and diverse racial make-up exacerbated those feelings. (An interesting side bar: Keith Kakugawa is a convicted drug felon and has been homeless off and on for years. How the two friends took such different paths is a story in its own right, but since this story is about Obama, it'll have to wait).
Obama found a place to belong on the basketball court. Here, racial lines blurred and Obama made some of his closest friends, despite as he puts it his "limited talent." Off the court, however Obama struggled. He says he experimented with marijuana and cocaine to numb the confusion. Obama's meandering trajectory continued his first two years at Occidental college in Los Angeles, and then it was as if something clicked.
Jerry Kellman says it was the voice of his mother. He says up to that point Obama was a "chronic underachiever" until his mother's influence finally came to bear and he began applying himself. His newfound motivation would take him on to Columbia to finish college, the streets of Chicago as a community organizer and Harvard law school where he became the first African American president of Harvard Law Review. But all the while, friends say his accomplishments and confident demeanor belied his search for an identity and a place to belong.
Eventually, Barack Obama would find his identity and his purpose. And his journey of self discovery would turn into a journey toward the White House. To find out how Obama went from "chronic underachiever" to candidate for President of the United States, I hope you'll watch the piece.
Editor's Note: Watch AC360 tonight at 10p for an in-depth profile of Barack Obama