Hey Bloggers!
The Northeast woke up with weather a bit chillier than usual this morning... That got me thinking (in between shivering)... and thats when I found it – Tonight's 'Beat 360°.'
Everyday we post a picture – and you provide the caption. Our staff will get in on the action too.
Tune in every night at 10p ET to see if you are our favorite! Can you Beat 360°?
Here is today's "Beat 360°" pic of the day: Here we see a whole bunch of Snowmen in Velka Raca-Oscadnica, Slovakia last year (Ahhh, THIS must be where they all go during the off-season...) They were built as part of an attempt to contest the world record for the building of snowmen. Residents of the village built 205 snowmen in an hour and 361 snowmen in 8 hours and will ask to be written into the Guiness Book of Records.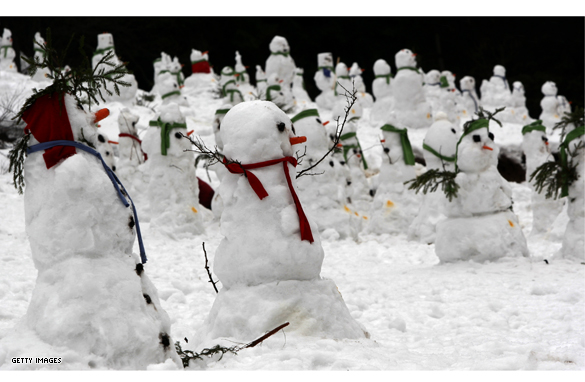 Have fun with it.
Make sure to include your name, city, state (or country) so we can post your comment.
– David Reisner, 360° Digital Producer