Editor's Note: Lanny J. Davis, a Washington attorney, is a supporter of and fundraiser for Senator Hillary Clinton's presidential campaign. From 1996 to 1998, he served as Special Counsel to President Bill Clinton. He is the author of "Scandal: How 'Gotcha' Politics is Destroying America." In this commentary, he responds to an opinion piece by Carl Bernstein on the prospect of a Hillary Clinton presidency. To read Bernstein's blog entry, click here.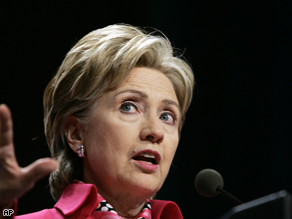 I really wanted to write a detailed rebuttal to Carl Bernstein's extensive attack on Hillary Clinton on CNN.com. But try as I might, I could not.
(Carl and I have known each other and have been friends for many years, so I will call him "Carl").
How does one respond to a what was largely a series of personal adjectives, character attacks, and vitriol - with few, if any, facts cited to back up those adjectives and part of an completely one-sided presentation?
Emblematic is Carl's reference to "Whitewater" as one factual example of Hillary Clinton's negative record while she was in the White House. Even Ken Starr and his successor could make no finding of wrongdoing against Hillary Clinton (or President Clinton) on Whitewater after years of investigations costing tens of millions of dollars. Carl forgot to mention that.
Numerous other examples of wrongdoing he cites during the her years in the White House are also devoid of any factual basis - even though they were the subject of many accusations and headlines, innuendo and TV punditry. None of them involving Mrs. Clinton stood the test of due process and a verdict based on the facts.
Similarly, Carl's negative characterizations of Senator Clinton's presidential campaign, such as "repugnant," are entirely subjective without facts to back them up. I do find a lot of double standard in judging the Clinton vs. the Obama campaign tactics, as I will briefly describe below.
The best brief positive statement of what I believe are the facts about Hillary Clinton is this:

Ever since I knew her in law school during the late 1960s to the present day, she has been a progressive Democrat who supported and was often on the front lines of leadership in every major progressive Democratic Party cause in the last 40 years, from civil rights to human rights to women rights to children's rights to public education to health care to economic justice and legal services for the poor to the environment to choice to worker's rights and the minimum wage...I could go on and on. Those are facts. Undisputable facts omitted by Carl. And so is the fact that Hillary Clinton was with her husband on the front lines in the White House for eight years and participated in, consulted, or was party to many of her husband's crucial foreign and domestic policy decisions of the successful two-term Clinton presidency.
As to Carl's reference to her "repugnant" campaign, that's a strong word among the many personal-attack words he used in his piece. But at the very least it should be clear that he uses a double standard in judging her and her campaign.
Two examples only should suffice:
First, Carl criticizes the Clinton campaign for being negative - "her Pavlovian resort to trench warfare...angry, demonizing...."
First, this is a baseless statement - he cannot cite an example of such a personal attack on Senator Obama by Senator Clinton. But Carl also omits any reference to the constant stream of personal attacks on Senator Clinton's character and integrity from the Obama campaign, especially in recent months. In fact, in the summer of 2007, it was Senator Obama himself, who promised not to engage in such personal attacks, who began it all in a front page New York Times story, when he called Senator Clinton "untruthful and misleading." That is the summer of 2007. And if you read that article, you will be hard-pressed to find a single factual example offered by Senator Obama of her untruthfulness.
Second, Carl refers critically to Senator Clinton's vote for the war resolution in October 2002 (a vote joined in by 28 other Democratic Senators, such as Obama supporters John Kerry and Jay Rockefeller, whom Carl also forgot to mention in the piece).
But, as to Senator Obama's record on that war vote, Carl omitted the fact that in 2004, when he was running for the U.S. Senate, Senator Obama was asked how he would have voted had he actually been a U.S. Senator. After saying he didn't think that President Bush had made the case for war, Senator Obama went on to respond how he actually would have voted. His answer: "I don't know." This is the same candidate who based the core message of his entire campaign on criticizing Senator Clinton's judgment at the time she voted for the same resolution.
Senator Obama also said in 2004 that he didn't think there was "much difference" between himself and President Bush on the war.
But Carl omitted reference to those two facts concerning Senator Obama's record on the war.
The obvious explanation for these and many other omissions by Carl is that this is a one-sided presentation by someone who clearly does not like Senator Clinton. Surprise.
For me, I admit my personal bias: I am strongly supporting Senator Clinton because I believe she is the more qualified and experienced of the two candidates. She is ready to be president from day one, in my opinion, more so as compared to Senator Obama. As to her personal and character qualities, the Hillary I know has integrity, is kind, funny, fair, caring, a great mom, and one of the best friends anyone could have. It is no coincidence that so many people who have known her for decades still admire and trust and respect and love her after all these years. And it is no surprise, to me at least, that so many Republican U.S. Senators have told me and many others that she is one of the nicest and easiest-to-work-with people in the Senate. (Carl gives her at least this much credit for being "widely commended by former skeptics in Congress and the press.")
So this is my response to Carl Bernstein - who remains my hero during his Watergate reporting days and has been kind and generous to me personally through the years that I have known him:
You are entitled to your opinion. And I am entitled to mine. But at least we should both remind readers to know what is a fact and what are substantive issues versus what is an opinion and personal attack, and to appreciate the difference.
– Lanny J. Davis
 Comments to the 360° blog are moderated. What does that mean?