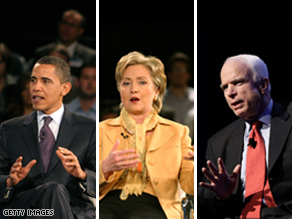 For the first time since this long, dramatic campaign began, people are asking me whether we are heading into a fall with yet another set of disappointing candidates.  Sadly, these past few weeks seems to have diminished all of them. 
 
"Are we really going to have to choose between candidates who can't lead us out of the mess we are in?" asked a major business figure this weekend - and this from a Republican stalwart!  From conversations over the past few days, I am finding that there are some serious, influential Republicans who are grumbling about John McCain's domestic policies, especially on the economy.  Some were appalled by his swerve last week on mortgage foreclosures.  Not only did he turn on a dime away from a position he took only a couple of weeks ago, but his new ideas seem to inject the government directly into administering who is a deserving homeowner and who is not - a position that is anathema to most free marketeers.  Will he provide sound stewardship of the economy?  That is a question we may hear more often in days ahead.
 
But if McCain is prompting some questions, that is nothing compared to what is happening to diminish the candidates on the Democratic side.  Clearly, Barack Obama stumbled in his comments and before the wrong audience when he rambled on about church goers and gun owners in small towns across the Midwest.  It's not that what he said is actually wrong; historians have often said, for example, that people enduring hard times often find their religious faith to be even more important. But the way Obama said it - and perhaps even the fact that he said it at all - could easily give offense in rural America.  He was smart to acknowledge it right away, and he was smart to get Senator Bob Casey of Pennsylvania out on television yesterday in his defense. 
 
One wonders, even so, whether Hillary Clinton hasn't gone too far in the way she has unleashed a relentless barrage of attacks against him in the days since. 

Sure, she has managed to make an issue of it, and she has managed to cut off coverage of her own problems (Bosnia, Mark Penn, etc.).  But she is doing it in a way that can leave deep scars.  There used to be a standard in campaigns that if you are running against someone in your own party, you can attack an opponent's positions but not his person.  Remember Reagan's 11th Commandment?  Last night in the Compassion Forum on CNN  - where she might have calmed things down - Clinton once again slashed away at Obama personally, calling him elitist, out of touch, and patronizing.  Not surprisingly, she is deeply annoying and antagonizing his supporters (people she may need one day).  And she is fueling their suspicion that out of fierce ambition, she is trying to make him unelectable this fall so that she can win in 2012.
 
It's not clear what genius in the Democratic party created a four-week break between the last primary and Pennsylvania.  But it hasn't served to do the Democrats any favors.    
– David Gergen, CNN Sr. Political AnalystClick here for more blogs from the 360° team
Comments to the 360° blog are moderated. What does that mean?