Hey Bloggers!
Happy Monday! Lets think BIG today... because It's time for 'Beat 360°.'
Everyday we post a picture – and you provide the caption. Our staff will get in on the action too.
Tune in every night at 10p ET to see if you are our favorite! Can you Beat 360°?
Here is today's "Beat 360°" pic of the day: Here we see Sumo wrestler students trying to make babies cry during the 'Crying Sumo competition' at Sensoji Temple in Tokyo, Japan. The first baby that cries wins this competition. The ceremony has been taking place in Japan to wish for the good health of the child... It's thought that crying is good for the health of babies. (What!?!? Maybe when they cry ON THEIR OWN! Something tells me that scaring the daylights out of them with GIANT SUMO WRESTLERS might not be so helpful for 'early childhood development.')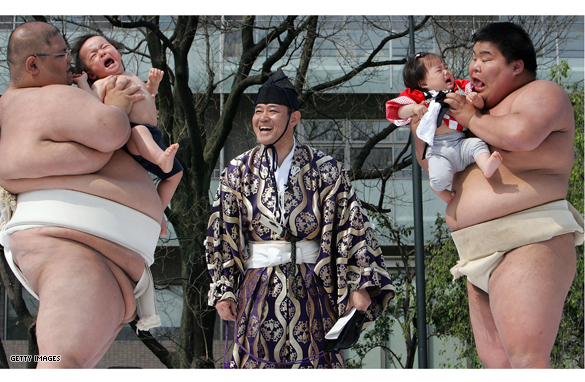 Have fun with it.
Make sure to include your name, city, state (or country) so we can post your comment.
– David Reisner, 360° Digital Producer