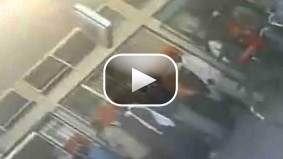 CNN's Paula Newton reports on the impact of Zimbabwe's delayed election results.
The calm and tightly controlled streets of the capital city here, Harare, are hard to fathom. Why aren't we seeing protests in the streets, panic at the banks and brawls in the food lines? When I asked one young Zimbabwean about it he explained, 'It's like a person, on the outside we look healthy, but inside we're rotting," he said.
On a rare, undercover journey into the Zimbabwean countryside, we tried to find 'the rot' and we didn't have to look long. We passed several police checkpoints, dodging police all the way along our route before we joined a journey made by millions here each day, an all-consuming hunt for work and food.
Some of the farm labourers we meet have come from a neighbouring province. "We hitched a ride, closed in like dogs on trucks," one female farm worker says before adding they have no choice but to roam and scavenge for a job for as little as $3 a month. They say the farm they had been working on wasn't even paying them enough to buy their own food.
One U.S. dollar is now worth 40 million Zimbabwean dollars. But here on the land, they rate the country's hyper inflation not by some ridiculous number, but by hunger.
We can't say how we managed to talk to these people, but their stories lay bare Mugabe's rural ruin. We passed mile after mile of Africa's richest soil, most of it uncultivated. As one man bitterly remarked, "we grow grass here in Zimbabwe now".
But in contrast, one farm we passed had immaculate, perfectly tended citrus groves and much more. It was the Zanu PF farm, Mugabe's party plants and harvests food of its own, to distribute as it pleases.
But on many ordinary black owned farms, the government isn't even tilling the fields for farmers like it used to. We also spoke to a white farm owner. Farmers here said they were grateful all had been quiet so far, but they were still apprehensive about what would happen next.
"As long as they've left us with something, it's worth our fighting for, " he says adding the government has already taken three quarters of his farm. "No one expects anything fancy, just a bit of stability, we want to know what's happening tomorrow" he adds, unwilling to give his name and asking us to withhold the location of his farm.
In 2000, Mugabe's regime ordered the expropriation of thousands of white-owned farms, sometimes by force. About sixty white owned farms have suffered through 'invasions' in the last week. Most of the properties are now back in their owners hands, but farms remain a key political battleground for Mugabe. He claims to be defending Zimbabwean land and preventing the opposition from giving black land back to whites.
There is fear in every rural corner here, fear that is now reinforced by Mugabe's militias. In the farming hub of Bindura, once a guaranteed Mugabe stronghold, we spotted Zanu PF loyalists making their presence felt in the town. The opposition, The Movement for Democratic Change or MDC claims this district turned its back on the regime during the elections, electing an MDC politician. Diplomatic sources inside and outside Zimbabwe tell CNN, more than 200 party militia have been dispatched to places like Bindura. Their mission is clear sources say; they have been tasked with intimidating those who voted against President Mugabe.
What surprised me though was that even in this toxic environment, more and more we found people searching for the kind of defiance that could finally replace their all-consuming fear.
"You know the people of Zimbabwe are so stupid" says one Mango vendor we spoke to. He was referring to Mugabe and his party. He wants the 'old man' to retire he says after all he adds, the opposition has guaranteed the President won't be tried or exiled.
But from another vendor a shrewd if depressing observation, "We are dying, slowly, slowly in Zimbabwe, but I think it's now faster than before" he says.
We relied on courageous Zimbabweans to guide us on our rare journey through Zimbabwe's rural heartland. We found that quite some time ago, hope had lost out to hunger and so far, democracy has failed utterly to transform their despair.
– Paula Newton, International Security Correspondent