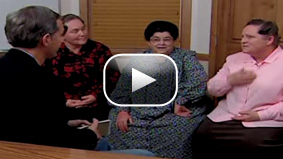 Polygamist families from a town raided in 1953 react to this week's Texas raid. CNN's Gary Tuchman reports from Arizona.
There is anxiety in the air in the towns where most of the FLDS members live:  Colorado City, Arizona and Hildale, Utah.
The members of Warren Jeffs' polygamist church are not supposed to watch TV or read newspapers. But alas, the ones who have talked to my producer Amanda Townsend and me are aware of the raid that has taken place at their sect's ranch 800 miles away in Texas. Authorities removed 416 children citing a danger of abuse arising from the marriage of gown men to girls as young as 13.
This community has been raided before, but it was a long time ago.  People over 60 still remember and talk about the raid of 1953 where about 260 children were taken from their families. They teach their children and grandchildren it could happen again.
Well, now it has happened again–in even larger numbers–and this will only increase the feelings among church members of victimization and fear of outsiders.   People here say they believe another raid could now happen here at any time.
Invariably, you ask hard core followers here about why they're not offended about children marrying adults, and they tell you if God wants that to happen, that takes precedence over man's laws. 
What saddens us greatly is how frightened the women are of outsiders. When we come up to women on the streets of this communty, most of them either run away or walk as quickly as they can from us without even saying a word.  Some of them look like they want to talk, but then think better of it.
We wonder: do they want help and are just too scared of their men and losing their children to ask for it? That is certainly what former female members tell us they were going through when they were part of this sect.
We stay away from children. We don't want to frighten them, but when we see them happily playing in their yards here, we can't help but think what was in store for them (particularly the girls) in just a few short years.
Yesterday, I did have the rare experience of a woman follower talk to me. When I asked her about the children separated from their families in Texas, she said those children should "stay sweet." In this sect, "stay sweet" is a euphenism for staying obedient. But who are they really being obedient for: The Lord, or for domineering and vile grown men?
– Gary Tuchman, 360° Correspondent
Comments to the 360° blog are moderated. What does that mean?