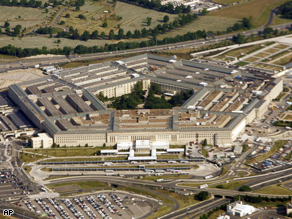 When you are a Pentagon correspondent, as I have been since....oh...I don't want to say how long….you learn that news comes from the strangest places in the 17.5 miles of Pentagon hallways. 
In fact just the other day one of the CIA liaison officers who works here and I were chatting, in the hallway, and he pointed his 'best intel' came from hanging out at the Pentagon's Dunkin Donuts counter in the morning where he could "run into everybody" he needed to talk to without wasting time in endless meetings.
Sometimes you get news by just being in the hallways. You can really get a feel for when things seem to be other than normal, when people are in a crisis mode.
But sometimes you get the most important news by just keeping track of the tidbits and waiting a few weeks for a story to move off the front page. Once it's out of the headlines, then it's time to get down to business and talk to my various deep throats around here.
So here's a tidbit, but it's darn interesting. 
Since the world-shaking headlines of the tragic assassination of Benazir Bhutto last December, it's been a major priority of the highest levels of the Pentagon to get U.S. troops into Pakistan to train Pakistani forces. The tribal regions are a virtual safe haven for Al Qaeda, and an increasing threat. US intelligence officers will tell you, THAT'S where terrorists go these days to get training and plan attacks, including recent attacks in Europe.
But its such a sensitive matter, that the Pentagon hasn't wanted to talk about it. That's where the reporter's job comes in. Call it nagging, call it newsgathering. I kept asking, probing, and yes, okay, nagging my sources. What's going on?  When will you get the agreement you want from Pakistan?
Finally, all the pieces came together and bits of 'string' I collected and verified are now ready to report:
Three Pentagon officials tell me that about two weeks Defense Secretary Robert Gates quietly approved deployment orders that will send US military trainers to Pakistan this summer to begin training Pakistan Frontier Corps units in critical counterinsurgency skills to fight the Taliban and Al Qaeda. It still hasn't been publicly announced.
The deployment will be small, just about two dozen troops. But they will go sometime this summer and stay through the spring of next year, according to officials. All this is the first step in a long-term U.S.-Pakistani military program on counterinsurgency cooperation. The U.S. will begin by training key Frontier Corps units to become trainers themselves so the program can rapidly expand. The Frontier Corps is drawn from tribes in the border area and considered vital in the fight against militants.
Getting the agreement to send U.S. trainers to the Frontier Corps has been a crucial part of the long term U.S. strategy. Several senior U.S. military officials have visited Pakistan to meet with Pakistani Army Chief of Staff Ashfaq Kiyani to get the trainer agreement.  Discussions had quietly continued through recent violence and unrest.
U.S. and Pakistani Army forces this month also have begun a major air assault training exercise, designed to improve the Pakistani Army's ability to conduct helicopter operations such as moving troops in and out of the border region. Nearly 100 US troops are there training several hundred Pakistanis.
And all this is important for many reasons. The U.S. hopes this quiet effort may be the beginning of getting Pakistani forces to challenge the Taliban and Al Qaeda - for real. And American public really do want to know if their young troops are now operating in yet another country that may or may not openly welcome them.
And by the way if you wondered, nope not Dunkin Donuts…I have much better luck hanging out at the Starbucks stand.
– Barbara Starr, Pentagon Correspondent