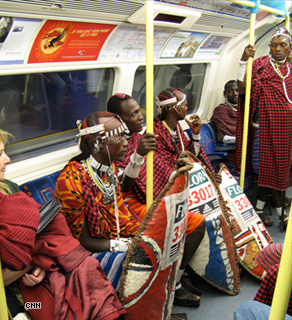 Maasai warriors sit on the 'tube' in London, on their first trip outside of Tanzania. They are in London to run the world famous marathon.
Six Maasai warriors chanting their traditional songs and jumping in their sandals made of car tires, a sight I am used to seeing in Kenya.
It turns out they are here to run the London Marathon, competing in the 26-mile race in their traditional Shuka robes and heavy buffalo hide Elongo shields. Because I've spent time with the tribe in East Africa, I was invited to spend some 'training' time with them.
We first met at Trafalgar Square. Under Nelson's column with the giant lions at its base, their 24-year-old leader, Isaya, directed the chanting that they frequently use to scare off real lions in Northeast Tanzania. I greeted Isaya in his native Kiswahili language, and he was pleased to meet someone based in his homeland.
Since they arrived, the Maasai have become the toast of the town. Fleet Street's reporters have clamored to spend time with them; TV crews have followed their every move. And they seemed tired of the attention. Remember, none had even left their country before, let alone taken a train or a plane or eaten an English breakfast – something the press here absolutely 'ate up'. All a bit overwhelming.
For all the attention, their purpose is to raise money for their tiny village called Eluai, where two out of three children die because of dirty water. They hope to bring in 60,000 pounds (around $120,000) to achieve a permanent water source for their village.
We went with them on their first rides on the subway – called "the tube" here. We admired the tall buildings of the gleaming Canary Warf business area together – they had never seen a building taller than a story or two before their trip.
But all they really wanted to talk about was how they were on a mission. As warriors, or Moran, they have the ultimate responsibility for safety and health in their village. And they are using a pretty spectacular method to secure it.
I asked Isaya though if there's anything else he wanted to do here. Yes, he said, "to see the Queen of England." Perhaps with all the attention they will.
 
– David McKenzie, CNN Correspondent