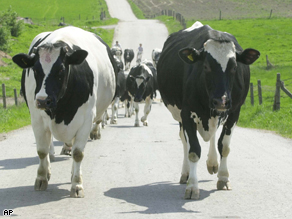 Milk is back in the news, thanks to Wal-Mart. The giant retailer recently announced that milk sold under its store brand will now come exclusively from cows free of artificial growth hormones, which some farmers use to boost milk production. Wal-Mart says its new policy was driven by customer demand. (Kroger, Safeway, Publix and Starbucks have already made the same switch.) So what's driving demand? Possibly, articles like this one, which made the rounds here at CNN. The person who spotted the piece described it as a great story "on how hormones in milk are causing girls to reach puberty years ahead of time."
When I checked it out, however, I found just one problem: so far, that conclusion isn't supported by decades of scientific studies. Researchers have not been able to definitively link hormones in milk and harm to humans, including early puberty in young girls. The writer of the article actually points that out. But she also writes: "there's tons of speculation. Common sense should tell you that excess exposure to artificial hormones cannot be good for you." She then advises readers to avoid milk with added hormones, even if it costs more. When I called her, she elaborated: "I just know a lot of times when you're using something like a medication or an additive, years down the road you find that it's associated with something terrible." She also told me she has a pre-teen daughter and would rather be safe than sorry.

Time for a quick confession: I'm a slavish consumer of pricey organic milk, even though my husband (a science/medical journalist and non-practicing medical doctor) rolls his eyes every time I bring a half gallon home. Full disclosure: He wrote about the milk safety debate last year in The Scientist, so I'm probably more familiar than the average reader with arguments that milk with hormones is just fine.  But even so, when it comes to shopping for milk, my emotions, not cool rationality, drive my choices – and I'll bet I'm not unusual. I'm drawn to the "err on the side of safety" argument; no one but my wallet gets hurt. But I also have enough experience in health/medical reporting to understand that "tons of speculation" and "common sense" don't hold water in scientific circles - or in journalism, for that matter. Facts and evidence are required.
Sometimes they surprise: It turns out that buying organic doesn't mean you're getting hormone-free milk. To qualify as organic, milk producers must certify that their cows haven't been treated with synthetic growth hormones. Key word: synthetic. According to Gary Rogers, a professor of animal science at the University of Tennessee, all milk – even organic – contains low levels of hormones that occur naturally in cows – including the natural version of the growth hormone that boosts milk production. It's produced in cows' pituitary glands. According to Rogers, who works with dairy farmers, organic milk and conventionally produced milk look identical when analyzed in the lab. "Milk from cows given hormones cannot be distinguished from milk from untreated cows," he told me, because the hormone levels are about the same. The FDA agrees.  Some skeptics argue that the tools used to measure milk-boosting hormone levels aren't sensitive enough; Rogers describes the technology as sophisticated.
It also turns out that milk-boosting hormones given to cows are mostly destroyed when their milk is pasteurized. According to Craig Baumrucker, professor of animal nutrition/physiology at Penn State University, pasteurization breaks down 90 percent of the growth hormone. He also points out that our stomach acids and intestinal secretions also break down these types of hormones.
Milk also contains traces of the reproductive hormones estradiol, testosterone, and something called IGF-1. There's some evidence that IGF-1 may raise the risk of certain kinds of prostate cancer. But Rogers and others point out that the amounts of these hormones in milk are a small fraction of what our bodies produce every day. (Pre-pubertal girls and boys and pregnant women produce the most.) One estimate says a person would have to drink 95 quarts of milk to equal the amount of IGF-1 we make daily in our saliva and digestive tract secretions.  What's more, said Baumrucker (who received funding unrelated to milk hormones from Monsanto in the 1980s) says birth control pills contain far greater levels of estrogen than milk. He believes hormones in milk have been a target of the biotechnology backlash.  He also points out that organic labels bring higher profits to producers with "claims of better health" for the public. Translation: Organic companies may have an interest in playing on our fears.
Frankly, the backlash against artificial hormones in milk doesn't surprise me. Every day it seems, we hear reports that make us question the safety of the food we eat and water we drink. The federal agencies tasked with keeping us safe have failed enough times to shake public confidence. As a journalist, it's my job to be skeptical – of everyone – until the facts become as clear as possible. If something sounds scary, maybe there's a good reason. It's also possible someone has good reason to keep you scared. And maybe the truth lies somewhere in between.
In Rogers' view, labels that say "no hormones added" send a misleading message. "These labels imply that other milk has hormones and theirs doesn't," Rogers says. In an email, Baumrucker put it more bluntly: "This is clearly a false advertising statement," he wrote. "There are hormones in natural milk." Both professors, and many others in science, believe that milk is safe, period. "It's not appropriate to say one milk is healthier than another," Rogers says. "That's going beyond what the data can support."
  
Meantime, there's a half gallon of milk sitting in my refrigerator stamped with the reassuring words: "Produced without the use of antibiotics, synthetic growth hormones or toxic or persistent pesticides and fertilizers." And, yes, my husband's eyes are rolling. What about yours?
– Cate Vojdik, 360° Writer
Check out Dr. Sanjay Gupta's blog on hormones in milk here 
Comments to the 360° blog are moderated. What does that mean?