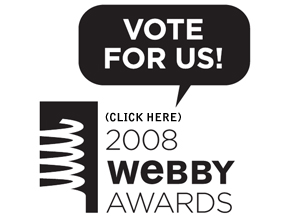 Bloggees, we have some great news to report.  
We're Webby Award Nominees!
"You liked us! You really, really liked us!"    (More to come on what we'll say if we win)
So where was I…. oh yes… We are Webby Award Nominees!
For those of you who aren't familiar with the award, it's the leading international honor for the Web. The NY Times has called it the "Oscars of the Internet."
The Webby Awards honor excellence on the Internet, including Websites, Interactive Advertising, Online Film & Video, and Mobile Websites.
Established in 1996, the 12th Annual Webby Awards received nearly 10,000 entries from all 50 states and more than 60 countries.
"We made it!"
What do we need?   
     – On the site, click the 'WEBSITE VOTE NOW' icon
     – Set up a quick login- its painless – dont worry, no junkmail
     – click 'CELEBRITY/FAN' category – and vote for us!!!
     – HURRY! WE HAVE UNTIL THURSDAY!
So hop on, spread the word!  Run, don't walk! Tell your co-workers, friends and family, set grandma up in front of the computer– and let's make this happen!
So what will we say if we win? (I told you I'd get back to that)
Well... The award-show's acceptance speeches are famous... Why? Because they are limited to five words, tops.
You know what I'm thinking, don't you?  An online 360 blog contest!
So I'll sum all this up into 5 words for you…. to all the great minds out there who read our blog, and got us to where we are today… we ask...
"HOW SHOULD WE SAY THANKS?"  
Hey, THAT was just five words. A good start?
Send us YOUR ideas.. Thank you! 
For inspiration, here are some 5-word speech examples given by past winners: