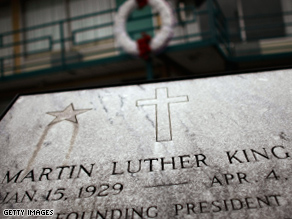 During the controversy surrounding the Rev. Jeremiah Wright, I saw many conservative talk show hosts, all white, reference the Rev. Dr. Martin Luther King Jr. as they model for what a black pastor should be. Several kept uttering his words taken from the "I Have A Dream" speech from the 1963 March on Washington for Jobs and Freedom.
And as I looked at all the African American talk shows hosts in Memphis, I had to ask, "Where are the conservative talk show hosts?"
I wasn't scared to say it. Dr. King was a figure who went beyond black America. He inspired and led many whites, and folks like Rush Limbaugh, Sean Hannity, Lars Larson, Michael Savage, Laura Ingraham, Neal Boortz, Michael Medved should have been there to give their listeners a front row view of the day's events. They could have talked to many of the same leaders who were on the front lines during the 1960s.
I always get a kick out of these talkers who sit behind their microphones and talk about being true patriots and lovers of America. Well, guess what? There were few events over the last 40 years that were as patriotic as the Civil Rights Movement, where America was forced to accept that the U.S. Constitution was also meant for African Americans.
This was one of those events where they could have come out from hiding behind their microphones and interface with many of the folks they are always criticizing. We touted a "Conversation with Black America" on CNN, but imagine had these talkers showed up and we were able to show a "Conversation with White America"? That for me, is always the problem. When we talk about King, it's always a talk among blacks, but to move a conversation forward about race in America, talking and hearing from white America is also important.
If you listen to their shows, be sure to ask them their thoughts. Where were they on April 4?
– Roland S. Martin, CNN Contributor
www.rolandsmartin.com
Comments to the 360° blog are moderated. What does that mean?