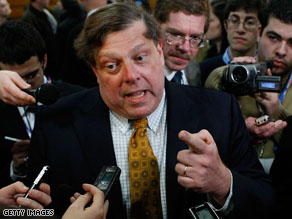 How does one of the sharpest minds in politics (Mark Penn) let himself get caught in such a conflict of interest (to boil it down: advocating a free trade agreement that his candidate/boss opposes) that he loses on both counts: he loses a key contract for his company, AND he has to step down from Hillary Clinton's campaign.
Hello.  Wasn't there an obvious problem on the front end of this situation?  Or, maybe more to the point, in an age of relentless scrutiny of presidential campaigns, not to mention almost everything else, why would he think it could be ok–or remain a secret?  Nothing remains a secret for long these days.
But then, maybe even more to the point of Mark Penn's resignation and loss of a valuable contract–does anyone really care? Sure, we political junkies do. But voters are weighing more weighty issues... Right?
 
– Barclay Palmer, 360° Senior Producer
Comments to the 360° blog are moderated. What does that mean?