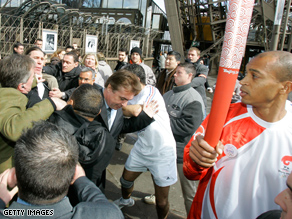 Before things got underway the police were in complete control. Police boats worked the river...a bridge across the Seine was shut down... there was a six square block security area around the Eiffel tower and to the confusion of the tourists who hadn't gotten the e-mail, Paris' most visited landmark was suddenly off limits.
But hey, the media? We can usually get through those police lines with our press cards held high. Not this time. We walked from one check point to the next, joking with the cops, but getting nowhere. Finally at a makeshift press tent we got through... and there, to our amazement, we were practically alone. Dead underneath the tower just as the first torch runner was coming down the stairs.
He set off surrounded by a ring of Chinese torch protectors, surrounded by a ring of rollerblading policemen, surrounded by a ring of jogging firemen, surrounded by a ring of police trucks, motorcycles and vehicles of every description. For lovers of organization, it was a beautiful thing.
But, as the generals always say...battle plans work great until you encounter the enemy.
The security "bubble" approach had a flaw, it seemed. Since protesting crowds were not prevented from walking... or sitting down... in front of the motorcade, it repeatedly got stopped. And when it got stopped, the flame was vulnerable to the anti-flame forces. So for security sake, it was out with the torch and into the bus for the torch runner.
Finally, running two and half hours late and only half way through the 17 mile course, the Olympic officials threw in the towel. They decided to keep the torch and runners on the bus and head for the exit... in this case, a stadium where there was a brief closing ceremony in Southeast Paris.
In London and in Paris, the security forces went 0 for 2. It's on it's way to San Francisco next and I am sure all here are wishing their American friends, bon courage!
– Jim Bitterman, CNN Senior International Correspondent
Comments to the 360° blog are moderated. What does that mean?