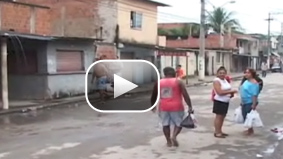 CNN's Harris Whitbeck tours Rio de Janeiro's most violent slum, which is ground zero in the dengue fever epidemic.
The shots rang out just as I had finished greeting a motherly, smiling shopkeeper in front of her storefront in the Caxias district of Rio de Janeiro.  For a brief second, I was taken back to Baghdad, where gunfire at all times of the day or night is commonplace.  As it turns out, it is just as commonplace in the densely populated slums that surround Rio.
I never knew if the shots were fired by police or by the notorious drug gangs that control many of Rio's slums- I was told gang members have lookouts at the edges of their neighborhoods on the watch for police- and that they fire warning shots to let other gang members know when an incursion is about to take place.
But I wasn't in Caxias, Rio's most notorious slum, to cover gangland warfare- I was there to cover the war on dengue- the crippling mosquito-born illness that has much of Rio in its grip. As I soon found out, though, the slum violence and the dengue epidemic are in a sense different elements of the same story.
A conversation with the relatives of a victim of dengue was interrupted by gunfire.  A thirteen-year-old child told me he is more afraid of drug dealers than of the mosquitos that already infected him with the disease.  His elderly grandmother told me they have no problem enduring the effects of the epidemic- aftare all, they face hardship and grief every day in Caxias.
And, perhaps most telling, the Caxias Secretary of Health told me the dengue epidemic is a direct result of the lack of social infrastructure in the neighborhood-  open-air sewage canals, poor hygiene and a general lack of interest by the authorities in providing social services, he said, leads to the ease with whch epidemics like dengue can rip through entire communities.  In the same way, that same lack of attention- poor access to jobs, health care and education, leads many of Caxias' young into the welcoming arms of the drug gangs.
Gun fire and mosquito bites- two manifestations of social ills that bare the same roots.
– Harris Whitbeck, CNN international correspondent
Comments to the 360° blog are moderated. What does that mean?