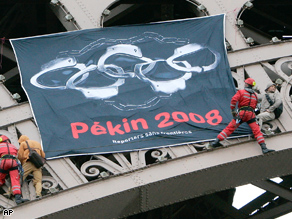 The Beijing Olympics don't begin until August, so I can only wonder what else the next few weeks will bring. Between the protests in London this weekend, and in Paris and San Francisco today, it is clear the citizens of the world don't plan to let the games go quietly. Even the International Olympic Committee is now starting to pay more attention. LINK TO STORY
Jacques Rogge, head of the IOC, admitting he is "very concerned" about the situation in Tibet, but isn't worried about talk of boycotting the games. I wonder if that tune will change, and I'm curious to see if any countries do sit this one out, even if it's just the opening ceremonies.
The pressure is intense across the globe, and it's bringing attention to exactly the type of events China wanted to downplay.
A Seattle woman is selling t-shirts that read "I was raped." I saw that and thought I'd misread the story. Yes, she is a rape victim. My concern? I would hate for people to buy and abuse these shirts, or to think they're "funny". Sadly, there are too many sick people in this world. No one needs to be victimized twice. STORY
And a few more to check out this Monday:
– Bob Dylan is now a Pulitzer prize winner. The citation for the 66-year-old Dylan noted his "profound impact on popular music and American culture, marked by lyrical compositions of extraordinary poetic power." STORY
– Medical mix-ups and accidental overdoses are far more common with kids in hospitals than anyone thought – try one in 15… not exactly the most comforting news. STORY
– More questions and frightening comments out of Zimbabwe today – will we ever know what happened in last month's election? STORY
– Erica Hill, AC360° Correspondent
Comments to the 360° blog are moderated. What does that mean?