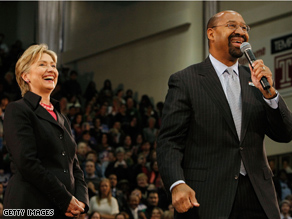 Philadelphia Mayor Michael Nutter joins Democratic presidential hopeful Sen. Hillary Clinton at a rally in Philadelphia, Pennsylvania. The State's Pivotal, delegate-rich primary is April 22.
When I interviewed Philadelphia's Mayor Michael Nutter a couple of weeks ago he seemed a bit uncomfortable with all the questions about why he endorsed Hillary Clinton. After all, Nutter is African American and finds himself at the center of a debate about whether high profile African Americans should automatically be endorsing Barack Obama.
 
At the time, I asked Nutter if he felt any pressure because of his color to back Barack Obama? He told me, "This is not a campaign for high school class president—this is the campaign for the President of the U.S. I'm only hoping voters will take a lot more factors in when voting than just the issue of race...  I'm mostly under pressure from my constituents to make sure that potholes are getting filled, trash is getting picked up, and that the city is running well and proper. I understand those concerns but folks of Philadelphia, we just went through a mayor's race, had three African-American candidates and two white candidates. I received the majority of votes of the African-American community and the white community—the first time any African-American has done that in a mayor's race."
 
Any chance he'll change his mind? Nope. He told me, "People in the city know once I make a commitment to do something I'm going to follow through and do it. If I say I'm endorsing a candidate, I have a good reason for it and they know I'm not going to change my mind."
He quickly added,"I never asked anyone to vote for me as mayor because I'm African-American. I asked people to vote for me because I had really good ideas, because I had experience, because I had a demonstrated track record of judgment to run this city. I would certainly not expect white candidates ask whites to vote for them because of their race...
 
Well, things have certainly heated up for Mayor Nutter since our interview. Just today, the Philadelphia Inquirer posted these comments from the Mayor:  "There are no automatics in life that all black people are going to support a single black candidate in a race," Nutter said. "All black folks don't eat fried chicken or eat watermelon. When do we make some progress here?"
The Mayor is apparently bristling over what a big deal is being made about race in the campaign.  He said last week, "I didn't see people running up to Ted Kennedy, saying, 'Are you getting any pressure from supporting Sen. Obama, any backlash?' No one is asking the white elected officials if they are getting pressure for supporting the black guy."
Some history here you should know: When Nutter was running for Mayor last year, Obama took time out of his presidential run to endorse Nutter's opponent U.S. Rep. Chaka Fattah. It's been suggested the Mayor has "bruised feelings."
Still, Nutter has said, if Clinton does not win the nomination, "then the next day I am going to be out there, trying to help Sen. Obama."
He told me, "I have tremendous respect for Obama. He has done some really good things as a candidate and I only have the utmost respect for him."
– Randi Kaye, 360° Correspondent
Comments to the 360° blog are moderated. What does that mean?