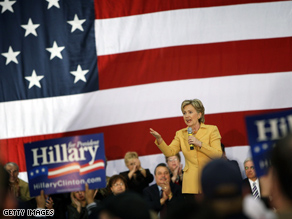 If Mark Penn had been a favorite within the Clinton campaign, it is difficult to believe that he would have been forced out over the Colombian affair.  Sure, it was a dumb mistake – a "what was he thinking" moment.  Still, it was a far cry from what one of Barack Obama's top advisers did when he met with Canadian officials on NAFTA and his mistake properly set off a mini-firestorm.  So, in the ordinary course of things, Mark Penn's apology and a few days of reassuring labor unions would have been enough to quiet things down – and Penn would still be calling the shots.
But it is apparent that Clinton topsiders detest Mark Penn and hold him uniquely responsible for what has gone wrong in the campaign.  When he went down last week, they lunged for the jugular and he couldn't survive.
What difference will it make in the campaign, if any?  Short term, it is a setback for the Clintonites because it sends super delegates yet another signal of disarray in the ranks and it will be a source of chatter in the media for a while. (From the campaign's point of view, the Petraeus hearings can't start soon enough to take attention away from Penn.)  As far as Pennsylvania is concerned, it is doubtful that one voter in 100 will be directly affected by his departure.  "Mark Who?"    
But his departure could indirectly impact not just Pennsylvania but the rest of the primaries to come.  Only a few days ago, Carl Bernstein reported on CNN that the Clinton campaign was sitting on some nasty stuff about Obama – stuff they thought the media should have featured a long time ago – and the campaign was preparing to go hard negative with it.  We have heard rumors of this kind before and nothing has materialized, but there was a sense that perhaps in a desperate, 11th-hour bid for the nomination, the Clintons would throw the rest of the kitchen sink at Barack, and maybe the bathroom, too.
 All along, Mark Penn – along with President Clinton – has been portrayed as the chief advocate of going much more negative. But now with Penn gone, one wonders: has the prospect of an explosive negative attack disappeared with him? 
For Democrats in general and Mrs. Clinton in particular, the Penn resignation may be a blessing in disguise.  A no-holds-barred, negative fight to the finish within the party would have hurt both Barack and Hillary.  What is now turning off voters (especially independents) is not the length of the campaign but the nastiness.  The best strategy that Mrs. Clinton can follow now – one that would preserve the chances of a Democratic victory in the fall and preserve her reputation, too – is to pursue a gracious, warm, emotionally appealing campaign that draws people to her instead of trying to drive them away from Obama.  Indeed, if she had pursued that strategy more consistently from the beginning, she would almost certainly be closer to the nomination now. 
Mark Penn is a very bright man who has served the Clintons for a dozen years, often brilliantly; he was a guiding force in the re-election of Bill Clinton in 1996.  But for reasons that are unfathomable, he has not seemed to grasp how much good a more positive, uplifting campaign by Hillary would have done.   
– David Gergen, 360° Contributor
Comments to the 360° blog are moderated. What does that mean?