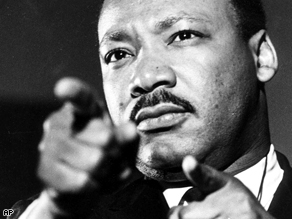 Forty years ago today Martin Luther King was shot and killed.  I was just a baby, but everything about that day informed my childhood.  I was one of those four little children Dr. King dreamed would one day live in a nation in which we would not be judged by the color of our skin.  And that's why his death tore a hole in our hearts. 
Martin had a voice so full of hope, so powerful that it could shatter the chains of oppression.  And thanks to him, we've come a long way.  A black woman is the face of America overseas, her predecessor, also black, has often been talked about for the Presidency.  And while he's declined, another man is a viable candidate for that highest office in the land.  And all that's good, but it's not all good. 
The schools are still segregated, our cities are in decay, and one in nine young black men is in prison.  The dreams of true equality died with Dr. King on that day, so on this anniversary, let's pick up the mantle and restore his dream. 

– Jami Floyd, "In Session" Anchor/360° Contributor
Read more Jami Floyd blogs on "In Session"
Comments to the 360° blog are moderated. What does that mean?