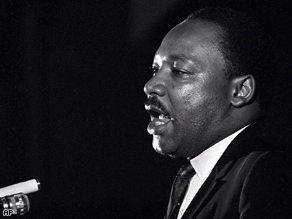 I met Dr. Martin Luther King, Jr., in 1964 when I was a student/driver for Wilberforce University in Ohio. I was assigned to pick him up at the Cincinnati Airport and transport him to the campus where he was the graduation speaker. He was a man of great stature, and used the time riding to impress upon me the need to get engaged in the civil rights movement. That was my last personal encounter with him. After his visit, I took several trips to North and South Carolina on the Freedom Buses to integrate the lunch counters. 
The day he died in 1968, I was working in the school cafeteria; and when the news came over the radio there seemed to have been a "darkness" everywhere. Students were crying and screaming in utter disbelief that a man who had done so much for his people had been killed. The most difficult challenge was realizing that he had focused on non-violence as the means to changing America and the world; yet his life was taken by the violent act of a gunman.
The last speech that he gave seemed to have indicated his sense that he would not be alive much longer. He talked about seeing the "Promised Land." The most compelling statement for me was, "I may not get there with you, but I want you to know tonight that we as a people will get to the Promised Land."
In this year, when an African-American or a female will head the Democratic ticket, many African-Americans are heading global corporations, and voter rights, housing laws, and educational opportunities are available to all, we are in the Promised Land. But, there is much needed to be done. And though Dr. King is not physically with us, his spirit continues to push us toward living the better life in this Promised Land.
– the Rev. Dr. Floyd H. Flake
Editor's note: Flake is the senior pastor of the 10,000 member Allen African Methodist Episcopal Church in Jamaica, Queens. Before assuming the pastorate of Allen Church, Reverend Flake was the Director of the Martin Luther King, Jr. Center and Dean of the Chapel at Boston University. He is a former member of the U.S. House of Representatives.
Comments to the 360° blog are moderated. What does that mean?