Editor's note: Tom Houck was Dr. Martin Luther King Jr.'s personal driver. He shares his thoughts with the 360blog about working with the King family, Driving Dr. King, and hearing the news of his death…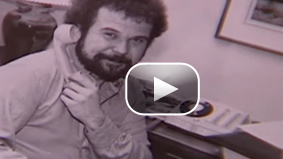 Tom Houck, personal driver for Dr. Martin Luther King, shares his thoughts with the 360blog on the 40th anniversary of Dr. King's assassination; Recounting driving Dr. King around town, and how she found out about his death. Watch an in-depth interview with Tom.
I became a fixture in the King household. I was usually there six days a week, starting with ferrying the kids to school. At midday, I might go over to the Southern Christian Leadership Conference, SCLC, but I was always on call for Martin and Coretta whenever they needed me. I had a place at the table, for dinner with the family. I think I was the only chauffeur in the country afforded the luxury of lunch and dinner with their employer.
Dr. King's hours with the family were at a premium. Every body wanted a piece of his time. He traveled constantly and was always in demand to make appearances across the country.
Our airport runs became more frequent. Whenever we drove back into town, there were three things Dr King always wanted. One was a pork chop sandwich from BB Beamon's or Henry's Grill on Auburn – neither of which are still around. He'd also crave a rib sandwich from Aleck's BBQ Heaven on Hunter Street, which is now MLK Drive. Dr. King was a night person, often up until three or four in the morning, so he'd eat late whenever he could.
Third, he'd buy a pack of cigarettes. Like most smokers, Dr. King was forever trying to quit. Coretta thought Martin had stopped lighting up, until the day she found a pack of his favorite Salems in his coat pocket. He blamed the cigarettes on me. Naturally I agreed, even though Coretta knew I didn't smoke at the time. From then on, he'd give me his cigarettes before we drove up to the house; but the next morning, he would always ask for them back...
After six months on the job, I looked forward to the days Dr. King was back in town and around for most of the week. I occasionally traveled with him, to Chicago, Washington and New York. I was part of his entourage to various anti-war demonstrations in 1967, and Dr. King was well aware of my passion for the civil rights movement.
By 1967, the movement was in a period of transformation, moving beyond the desegregation of water fountains, buses and schools. Opposition to the war, women's rights, black power, economic justice – all were vying for center stage. Sharing the fruits of the U.S. economy became Dr. King's top priority. The Poor Peoples Campaign became Martin's passion. He knew there was no benefit to gaining access to a hotel room if you don't have money to pay for it. The issues merged for him. But he had resistance from other movement and church leaders, who were siding with Lyndon Johnson's War on Poverty. And, as always, the FBI's J. Edgar Hoover was keeping an eye on his every move.
I would listen to his discussions in the car with other leaders. I knew he was concerned about where the movement was headed. SCLC was far from the lavish days when it got bag load after bag load of checks rolling in from do-gooders all over the world. A lot of white contributors were having second thoughts. They could back public accommodations and voting rights, but could they back a struggle for economic justice?
Martin was worried about who was going to pay for the Poor People's Campaign. I saw the strain on him around the house, figuring out how he was going to finance the project. So much was on him as he toiled to propel the movement forward. Whatever I could do to help him – that's where I wanted to be.
Forty years ago today, I was in Knoxville, Tennessee organizing poor white people to join in the Poor Peoples Campaign. When I heard that Martin had been shot and killed, I couldn't believe it. I was numb. I knew of threats… I knew that on April 3, when Dr. King was heading back to Memphis to do a second march, his flight was delayed by bomb threats, but I could fathom that our leader had been gunned down.
I called the King family house; Mrs. King had been on her way to the airport headed to Memphis. She went back home when she heard the news. I left Knoxville to return to Atlanta and honestly don't remember how I got back. My mind was so full of anger, fear and sorrow.
When I arrived in Atlanta shortly after midnight, I immediately started organizing, helping do whatever I could. The mood of bereavement among Dr. King's staff and the SCLC was incredible.
Over the years, I drove the family's 1966 Bonneville and a 1965 Chevy Impala. When Martin died, Coretta kept both cars for many years in the basement garage. The Impala was there on Sunset Avenue until the mid-90s. It's still around – that was Dr. King's last car, and it's never been sold.
– Tom Houck
Tom Houck's memoirs on life with Dr. King, 'Driving Dr. King: Chasing the Dream'" is scheduled for publication next year.
Comments to the 360° blog are moderated. What does that mean?