He said what!!??
That was the reaction many had after hearing what Pennsylvania Governor Ed Rendell said about white voters in his state and Senator Barack Obama.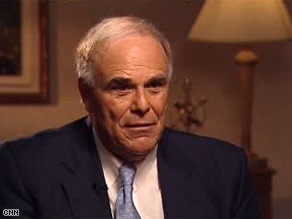 See Randi's report on Gov. Rendell's comments tonight on a special edition of Anderson Cooper 360: Race & Politics at 11p ET
First, you should know, Rendell has endorsed Obama's opponent, Senator Hillary Clinton. Why?  He said, "If you were having brain surgery and you had one brain surgeon who was considered the greatest, A+, and you had one who was graded A, you could choose either one of them, not pay any more for either one of them, you choose the A+.  Obviously.  And that's why Hillary Clinton should be our nominee."
But in a meeting with the Pittsburgh Gazette in February, Gov. Rendell said, "You've got conservative whites here, and I think there are some whites who are probably not ready to vote for an African American candidate."
Yes, he went there... 
When I interviewed him last week about his remarks for a story for Anderson Cooper 360, he told me, "I was handicapping a race. It's like saying that NC is gonna beat Duke because it's taller, they've got taller players. Taller players generally get more rebounds than shorter players. I was handicapping a race in a private room. I wasn't trying to influence, I didn't think that my comments would ever get into the public domain. If I was trying to influence the race to help Senator Clinton, I would've done it at a big rally. It wasn't intended to be racial."
I asked him, do you regret saying it? His response: "I had 3 difficult days, sort of to the extent that I regret them. I would have loved to concentrate on my governor's job. But no, do I think there was anything wrong with them? Absolutely not. No, I told the truth and we've got to be able to speak the truth about the race without someone pointing a finger and saying you're racist- you know, um, we have to be able to speak the truth."
You can only imagine the firestorm that followed after the Gazette first published his remarks. The head of Philadelphia's NAACP called the remarks "callous and insensitive." And Rendell's former opponent in the Governor's race, Lynn Swann, an African American, called what the governor said "a subtle form of racism."
In the past, Gov. Rendell had said that if Lynn Swann had been white, not black, the race for governor may have been closer when they ran against each other.
In all fairness to the governor, the reporter who wrote the article in the Pittsburgh Gazette seemed surprised by the reaction it got. So he wrote another article five days later agreeing with the governor, writing, "Mr. Rendell didn't "dump" or "strategically plant" his opinion about race in our paper on behalf of the Clinton campaign. We asked him for his opinion and he gave it without equivocating." He added, "It wasn't my impression that Mr. Rendell was advocating a bigoted electorate as an acceptable status quo or a healthy attitude for Pennsylvania."
I couldn't help but point out to the governor that he made these comments just about a month after Bill Clinton had compared Obama's victory in South Carolina to the victory of another black candidate from years ago, Jesse Jackson. The governor told me he was bothered by the comments made by the former President but still stood by his.
Is Gov. Ed Rendell a racist? He says no and attempted to prove it, saying, "Anybody who knows my record as governor knows I've been probably the most inclusive governor we've ever had . Minority business enterprises now have 10% of state business. They had 2% of state business before I became governor. This is the most inclusive administration we've ever had."
In our interview, Mr. Rendell also told me, "Senator Clinton might lose some votes because there are conservative white democrats who don't want to see a woman as commander in chief. Those are facts, and Senator Obama had done a great job sort of putting race behind him. Look at the votes in Wyoming, Wisconsin, Utah where there are predominantly white voters. He has done a great job overcoming that."
Who does Rendell blame for all this talk of race? You guessed it, the media! He said, "The media in my judgment is the number one offender here. We've got to get to the point where white candidates can criticize black candidates and black candidates can criticize white candidates without it being characterized as racist."
At the end of our meeting, I asked the Governor if his candidate doesn't win the nomination, will he support Barack Obama? He told me, "Of course. I had a call from Senator Obama, he said, you know I'm gonna be the nominee.  And I didn't argue with him. I said, sure.  And he said, I just wanna make sure that nothing happens during Pennsylvania, the campaign here, that will make it harder for us to win in the fall.  And I said, Senator, don't even worry about that for 5 seconds."
Even the Governor admitted to me it is tough for him to hold his tongue, so these days he's waiting a few seconds between thinking something and opening his mouth. He says he doesn't want to hurt the Democrats' chance to win the White House come November.
– Randi Kaye, 360° Correspondent 
Program note: See Randi's report on Gov. Rendell's comments tonight on a special edition of Anderson Cooper 360: Race & Politics at 11p ET.