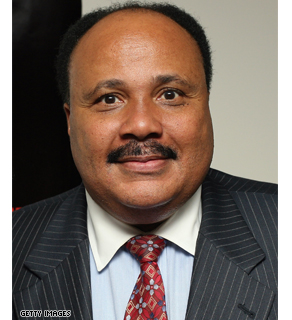 Martin Luther King III, son of Dr. Martin Luther King Jr., shares his thoughts with the 360blog on the 40th anniversary of his father's assassination, and where we go from here.
As America remembers my father this week, I find myself reflecting on his great dream and the amazing strides we have made as a nation towards accomplishing the dream.  We have had two African-Americans serve as Secretary of State and in this exciting election either a woman or an African-American will be the Democratic candidate for President of the United States of America.  I am proud of the instrumental role my father had in bringing about systemic change and I draw strength from knowing so many people are working to continue this change and accomplish his dream.
My reflection on my father also leads me to his immense passion to overcome economic injustice.  A passion that is evident in his final sermon, given at the National Cathedral on March 31st, 1968, in which he declared, "There is nothing new about poverty. What is new is that we now have the techniques and the resources to get rid of poverty. The real question is whether we have the will."  Sadly, forty years have passed and absolutely no strides have been made to combat poverty.
Therefore, as I look back on my father's great work and incredible life, I am also looking forward to continuing that work and honoring his life.  I am looking forward to Americans rolling up their sleeves, joining together and working to bring about a systemic change that will forever rid the world of economic injustice, as my father asked us all to do forty years later. 
For this reason, I recently urged our Presidential candidates to publicly vow to appoint a cabinet level poverty officer, an officer with the sole goal of ending the economic injustice that oppresses so many Americans.  With over 36 million people living in poverty, 12 million of them children, something needs to be done and it needs to be done now.  The President has a nation to run and a world to work with, but a cabinet officer can have the sole dedication to ending poverty. 
It is a privilege to share with all of you today.  Please keep the discussion going, roll up your sleeves and help us to realize my father's dream.
– Martin Luther King III
Comments to the 360° blog are moderated. What does that mean?