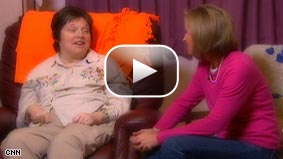 Wal-Mart's health plan will not try to recoup benefits paid for the care of former employee Debbie Shank, 52, who suffered severe brain damage in a traffic accident. Watch Randi's report tonight on 360°
Randi Kaye | BIO
AC360° Correspondent
Hey there, I have some breaking news to share with you.
Remember Debbie Shank, the brain-damaged woman Wal-Mart had sued. The company was looking to get back money it had paid for her care after a semi-truck had plowed into her minivan eight years ago.
She was working for Wal-Mart, stocking shelves overnight so she could spend more time during the day with her family. The company wanted $470,000 back but only $217,000 is actually left of the money she had won in her own lawsuit against the trucking company. The money had been placed in a trust to provide for her long-term care. A court ruled Wal-Mart was entitled only to the money left in the trust.
You may recall, neither Debbie nor her husband had noticed the fine print when they signed up for Wal-Mart's health and benefits plan that said if she settles with a third party in a lawsuit, Wal-Mart is entitled to recoup what it had paid for her care.
After my story about her aired on 360° and I blogged about it, the response was overwhelming. Thousands of you wrote to us, vowing to boycott Wal-Mart, with some saying you would "never spend another cent there." Many of you told me you had called Wal-Mart to complain, while others tried to raise funds to help the family.
Someone started a petition to boycott the company on YouTube and Facebook, with a link to our story. Just a couple of you spoke for Wal-Mart, one noting the company had done nothing illegal.
Well, guess what. Today there was a major development in that story... Wal-Mart decided to let Debbie Shank keep the money. I read the letter sent to Debbie's husband, Jim Shank, from Wal-Mart Executive Vice President Pat Curran. It reads in part:
"Occasionally, others help us step back and look at a situation in a different way. This is one of those times. We have all been moved by Ms. Shank's extraordinary situation. As you know, our current plan doesn't give us much flexibility, so we began reviewing the guidelines for the trust that pays medical costs for our associates and their family members….We have decided to modify our plan to allow us more discretion for individual cases and are in the final stages of working out the details. Meanwhile, we wanted you to know that Wal-Mart will not seek any reimbursement for the money already spent on Ms. Shank's care, and we will work with you to ensure the remaining amount in the trust can be used for her ongoing care. We are sorry for any addition stress this uncertainty has placed on you and your family."
Jim Shank, Debbie's husband, learned of this about noon today. He told me "I thought it was an April Fool's joke." I asked him how he felt, and he said, "The pressure of the people got to them.. It's not only a victory for Debbie but they are going to change their entire policy." Then he added, "I want to thank the Lord Jesus and I want to thank you and 360 for all you've done.. you broke the story for us."
Jim also said he is thankful to so many of you, too, our viewers, who pushed to get what Jim says is justice for his wife, Debbie.
– Randi Kaye, 360° Correspondent
Comments to the 360° blog are moderated. What does that mean?