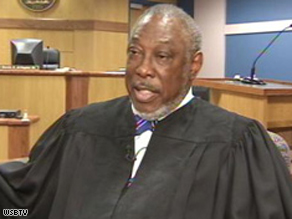 Fulton County, Georgia, Superior Court Judge Marvin Arrington
Editor's note: Judge Marvin Arrington has served as a Superior Court Judge in Fulton County, Georgia, since 2002. He recently ordered white lawyers out if his courtroom so he could speak to a black-only audience.  FULL STORY  We asked Judge Arrington to share his thoughts – he wrote about the importance of education.
Young people should be given a plan early in life and know that the goals are achievable.  If you work hard and put those goals in place, you can and will be successful.  I am a firm believer that hard work, blood, sweat and tears, will get you to where you want to go.
We need to create a buddy system where we can tap young people in the classroom to help the brother, sister, a neighbor, a friend, a teammate that you can help move in the right direction. You can do it by creating an environment where students want to compete and achieve. 
I was privileged to have lunch with Dr. J. Jerome Harris, the former superintendent of the Atlanta Public Schools. And one of the things he said was, "Marvin, there was someone in the Atlanta Public School system that touched you in a special way that started you on the road to success."
I recall my fifth grade teacher at English Avenue Elementary School, the late Ms. Lois Wright, who challenged me when she appointed me to play the role of the king in a school play. I took the material home, attempted to memorize it, and came back and told her that she needed to identify someone else to play the part because I could not learn my role. She looked me in my eyes sternly and said, "Don't you ever tell anyone that you cannot do something.  You are as bright as anybody in your class and I picked you because you had leadership qualities and I know that you can do it." With that challenge, I went home with a renewed commitment to learn the role as king. I received a standing ovation.  To overcome this challenge made me feel good about myself and it was instilled in me that if you put your best foot forward and try hard, you can learn and achieve.
The second incident that impacted my life was a young student teacher who asked if she could see me after class one day. At the conclusion of class she told me that she was a friend of my older brother, Joseph, who was enrolled at Morehouse College, and that she thought I could achieve, but I had to quit horsing around and being disrespectful and commitment myself to trying to get a good education.
It was the way that she challenged me that made me think about what I was doing, and I made a commitment then to start doing my school work. It was at that point in time that I started reading, turning in my work and being more attentive in class in lieu of horsing around. I wished I could remember her name so that I could write her a thank you letter today. 
Also, I owe a lot to the late Dr. Hamilton E. Holmes who was one of my classmates at H.M. Turner High School. I recognized that I was in trouble early on and went to him and asked if he would help me with my work. He agreed to assist me and was very patient. Things that I did not understand he went over with me; I committed myself to going over and over and over until I had it in my head. Our relationship continued on into college where he was a freshman at Morehouse and I was a freshman at Clark College. Again, I asked for his help in English and math problems.  He graciously agreed to do it and I would go by his house on Tuesday and Thursdays and he would block out 45 minutes to an hour to work with me and I learned from that experience. 
People talk about developmental studies and I don't know what you would have termed it, but I was just calling on a buddy to help me with my work. We need to identify student leaders in classes who would be willing to help out their classmates. As a student sometimes, you have as much confidence in a fellow classmate, particularly one as bright as Hamp, as your teachers and I knew that he was taking valuable time out of his schedule to help me. Consequently, I put my best foot forward.
Another experience that impacted me was that when I got to Clark Atlanta University, I was very fortunate to run into a lady by the name of Delores Aldridge who is now Dr. Aldridge who holds the Grace Towns Hamilton Chair at Emory University. We dated in my early years at CAU, and she said to me early on, sternly, "We can date, but if you're going to be around me, you need to change your attitude and get serious about your work."
She indicated to me that as long as I was serious about my work, she would continue to encourage me. When I completed my classroom assignments, if they were not correct she would make me re-write them until they were almost perfect; and then she would say, "You did a great job." She did this in such as way that she was not disrespectful, did not talk down to me, but just kept encouraging me and telling me that you can do it if you try.
Throughout college I continued to work extremely hard because I knew that I wanted to be a lawyer and I knew that I was going to have to work hard, perfect the English language, and compete at a high level.
Another thing that impacted me was a teacher at Clark College, Willie C. Davis, who taught freshman English and gave me the only failing grade that I received in college. This made me know that I was going to have to work harder on my English before I could go forward. That summer I was hired by Union Pacific Railroad out of Ogden, Utah. I went to local bookstore and purchased a book styled simply, How To Write. I read that book over and over during the summer until I had perfected it, and when I returned to CAU, I took the freshman English course again and passed it. Later on, one of Ms. Davis' daughters said that her mother said I had more determination than any other student she had taught at Clark College.
Another monumental step was my introduction to the legendary coach at Clark College, L.S. Epps. Coach Epps had a slogan that I will never forget, "Good babies don't cry; and Clark does not take cry babies." He was the first person to put into my hands a game plan and that's where I learned that you need a strategic plan in life if you're going to move forward. You set goals and you work toward those goals.  If you work hard enough, you will be successful.
I made the varsity basketball team at H.M. Turner High School in the 9th grade, which was unheard of when I was coming along. But, I knew that I could play as good as the players in front of me. I just needed an opportunity; and once given that opportunity, I never looked back. Stay focused and teach our young people to stay focused. If they do that, they will be successful.
Public Schools 
Mayor Richard Daley of Chicago is one of the most courageous leaders in education. Daley unilaterally closed down 15-20 schools because of the decrease in population; he combined schools and put the resources into a joint team effort.
Many leaders don't have the courage to close down public schools, but if they are not working, then they are not working; and then the hard decisions have to be made. 
Test scores
We put a lot of faith in test scores, but I have known people to succeed who did not test well. I fall into that particular category. When I applied to Howard University Law School in 1964, they looked at the total applicant – college grades, student activities and other contributions that defined the person. I was able to go to Howard and compete, maintain my grade point average and transfer to Emory Law School where I completed my studies. Law school is about taking a problem, digesting the issues and writing a conclusion that leads you to good, prudent answers.
When I finished law school, I made a commitment that I was going to be the best lawyer in this country. We were able to pull together lawyers and defined by legal publications as one of the best small firms in the country.  There are more Marvin Arrington's out there, but they just need the chance to compete in the marketplace. 
– Judge Marvin Arrington, Author, Making My Mark: The Story of a Man Who Wouldn't Stay in His Place
Comments to the 360° blog are moderated. What does that mean?