Anyone who came to CNN heard pretty quickly about "Bev."
Beverly Broadman joined CNN a month before the network launched 28 years ago. And when I got to know her, she was CNN's national desk dayside manager.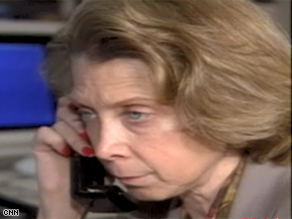 Beverly Broadman, a CNN original, died Thursday after battling cancer. She was 60.
Bev was a petite woman, stooped, with hands knarled by early and painful arthritis. But for those of us in CNN's bureaus, you wouldn't know it.
The expression is a cliche, but Bev was a towering figure. Her job was to make good journalism happen across the nation. And she was amazing at it. Bev cajoled, she probed, she challenged, she kept us hopping, she kept us motivated, and she kept us honest.
But probably the most amazing thing about the way Bev did all that was that she did it with heart... a huge, huge heart in a tiny woman...

Even as she pushed us, and pulled us - constantly - Bev did it with heart... even love. Bev was always respectful of every single person - no matter how low or high on the totem pole, and whether people succeeded or struggled, or goofed big time.
Bev was always positive with people, even in moments of frustration or intensely urgent breaking news. How many people can you say that about? She was constructive, collegial and focused on finding quick, smart solutions rather than getting caught up in conflict or nonsense.
In that, Bev was a model, a mentor and - with that big love of hers  - a mom.
I hope that doesn't come across wrong. But yes, like any great parent or friend, Bev made you want to do your best, and to do it right.  
I think that's why dozens, maybe hundreds, of smart, tough CNN journalists below and above her in the hierarchy, have always spoken of Bev with deep affection and respect.
Bev was one of those rare people who helped us all keep in perspective what's really important in our jobs, and in our lives, and helped us know that a big heart is worth more than pretty much anything else. And in her death, she reminds us of that yet again.
-Barclay Palmer, 360° Senior Producer