Program note: Catch Dan Simon's report on the gray wolf, part of our Planet in Peril series, tonight on 360° at 10p ET
After three decades on the Endangered Species Act's "threatened" list, the gray wolf was officially removed today – a decision that has stoked controversy among environmentalists and ranchers.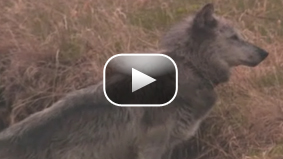 The gray wolf was removed from the 'threatened' list Friday. Check out this slideshow of Yellowstone's wildlife
It means the wolves can now be shot and killed if they step out of Yellowstone National Park. Fish and Wildlife officials from neighboring states can shoot them when they deem the wolves to be a problem, and it's expected they'll establish hunting seasons too.
The government delisted the wolves – which were eliminated from Yellowstone decades ago but reintroduced in the 1990s – because they are now thriving in the park that is dominated by bison, elk, and bighorn sheep.