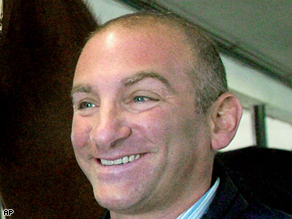 Andrew Kissel, seen here, was murdered in 2006. His former driver, and another man, are being charged with the murder.
He was once a successful real estate developer, drove flashy cars and lived in a gated estate in one of the country's wealthiest suburbs. But nearly two years ago, the weekend of April 2, 2006, millionaire Andrew Kissel was found dead in the basement of his mansion. His hands and feet were bound and he'd been stabbed in the chest. His murder shocked this community. Kissel's lawyer told CNN he had started using drugs and in 2005, he was charged with more than 25 million dollars in fraud, including millions stolen from  the owners of a Manhattan apartment building where he served on the board. He was killed two days before he was supposed to testify. His lawyer said he was planning to plead guilty and go to prison. Then suddenly, just days before his meeting with prosecutors, he was murdered.
One theory police had was he'd ordered a hit on himself in some type of murder-for-hire plot so his kids could get the insurance money. But today police in Greenwich, Connecticut announced the arrest of Kissel's chauffer, Carlos Trujillo, and the chauffer's cousin, Leonard Trujillo. Both are in court today to be arraigned. I was there as Carlos Trujillo made his way into court to enter his plea. The 47 year old was lead in with his hands handcuffed behind his back,  wearing a white button down shirt. He is from Columbia, and has only a limited understanding of English. An interpreter helped him to understand the proceedings. Carlos Trujillo been living in Connecticut for four years. He has no criminal history either in Columbia or here in the U.S. His bond was set at 1 million dollars. What's interesting is his immigration status. He apparently has an INS hold on him, and the prosecutor called his immigration status "ambiguous". At the end of the hearing, Carlos Trujillo entered a plea of "not guilty."
Carlos Trujillo had said he visted Andrew Kissel the day before his murder and was with family in Queens, NY when he was killed. Carlos Trujillo was interviewed by police two years ago when I first covered this story. He had been fingerprinted, questioned more than once, and his storage facility had been searched. No arrest. Now, after all this time, he's behind bars . He was arrested while driving his car in Stratford, Connecticut, taken from the vehicle, and into custody without incident.  .
At the time of the murder, Carlos Trujillo was interviewed by Geraldo Rivera about his relationship with Andrew Kissel:  "We are the best friend, you know? He treated me like his son. I love him like my father, you know. I can't believe this, you know, I had that possibility to kill him.."  I spoke with his lawyer, Lindy Urso, outside court before the arraignment today and he said Carlos Trujillo still denies having anything to do with the murder of Andrew Kissel. Urso suggests Greenwich Police wanted to solve the crime and may have pressured Leonard Trujillo and others into pointing the finger at Carlos Trujillo. I asked him why police would want to frame his client? Urso said they had been targeting him since day one. He said, "if they were so sure it was Carlos Trujillo then why didn't they arrest him right away?"
Police had also looked at Kissel's wife, Hayley Kissel. The two were in the midst of a divorce and there was no love lost between them.  A raging email written by Hayley Kissel appeared to show she had thoughts of killing her husband. It was written less than a year before the murder, and it said "last night in bed I could actually see myself pummeling him to death and just enjoying the sensation of each and every shot." Her attorney, Nathan Dershowitz, told us:  "It's a clear venting of frustration and anger at what he had done. So, you know, it's understandable that she would do it. And she did it in a private e-mail to Andrew's sister. Nobody's going to send e-mails to the sister if they had any serious thoughts of doing something. That would be the dumbest thing you could do."
If Hayley Kissel had done it, it wouldn't have been the first time a Kissel had been killed by his wife. Three years ago, Robert Kissel, the successful banker in Hong Kong, discovered his wife having an affair with a TV repairman.  Robert Kissel was worth about $15 million - dead.  He had offered to divorce his wife, Nancy, and divide their millions. But apparently she wanted more. Instead, she served him a strawberry milkshake laced with drugs. And when he passed out, she bludgeoned him to death with a statue.  Nancy Kissel will spend the rest of her life in a Hong Kong prison for what became known as the "milkshake murder."
Back in Connecticut, no milkshake, and no word about motive. Police won't say. Nor will they say what evidence they have gathered against Carlos Trujillo and his cousin, or why it took so long to build their case.
-Randi Kaye, 360 Correspondent