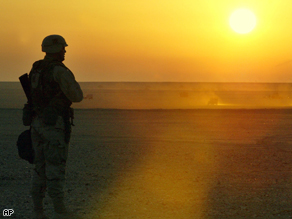 Last month, a report commissioned for the U.S. Dept. of Veterans Affairs said that 18% of discharged military vets are jobless.  Now that number reflects both former military men and women who are not looking for work (they might be suffering from PTSD or adjustment issues or just not ready to be back in the civilian world), but also those who are…and just can't seem to find it – despite sending out resumes each day.  So with the 5th anniversary of the Iraq war now just behind us, we thought we'd find some veterans to find out why they are struggling.
Working with several veterans groups, like the Veterans Today Network  and Swords-to-Plowshares  we spoke to – and received emails from – almost 100 former servicemembers.  And I was frankly surprised at the universality of the theme:  they come back from serving their country with skills and training they thought would make them marketable in the civilian world…only to find that not quite to be the case. 
Sometimes it is employer biases against vets (that they are going to be unreliable, that they don't know how to do anything but shoot a gun, that they all suffer from PTSD).  Sometimes it's that after five or ten years in the armed forces, it's difficult to even know how to write a resume or make the right contacts to find stable work.
I talked to dozens of vets who are couch-surfing with friends because they can't afford their own place.  Or people who have moved several times around the country with their families, trying to find a job.  Often, they end up taking jobs well beneath their skill levels and pay grade only because they need to pay the bills. 
This is what brought David Mattingly and myself to Sacramento, CA last week – we spoke to a ten year army vet, a woman who after saving countless lives in Iraq, was awarded the military's highest non-combat honor, and who is wondering why – after four years of being a civilian – she still can't get seem to find a job that matches her background and skills. 
If you're a veteran and have had a similar experience, let us know…
– Jason Rovou, 360° Producer