Hillary Clinton's detour yesterday to Michigan reflects a clear understanding within her campaign that much could hinge upon what happens there in coming hours. If the Democratic state legislature leaves for a two-week vacation this afternoon without resolving to hold a make-up primary, her chances of wresting the nomination from Barack Obama could diminish sharply.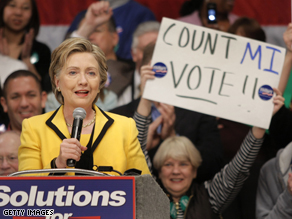 Democratic presidential candidate Sen. Hillary Clinton holds a 'Solutions for America' event in Detroit, Michigan. Clinton came to Detroit to attempt to generate support for a Michigan democratic primary do-over.
It has been apparent for some time that Clinton's best strategy – perhaps her only strategy – is to win lop-sidedly in Pennsylvania, then rack up a string of late victories in North Carolina, Indiana, West Virginia, and Kentucky so that she could argue that while still behind in pledged delegates, she had won the second half of the season and the two candidates were basically tied.
She could then plausibly look to re-dos in Florida and Michigan as an "overtime" and with victories there (almost certain in Florida, likely in Michigan), she would be in a reasonable position to persuade superdelegates (and the party) that she is more electable.
But take Florida and Michigan off the table and the Clinton game plan becomes much more difficult.
Even if she were to win all of the states above, the lack of new votes in Florida and Michigan would mean the campaign would end with Obama still ahead in delegates, states, and total votes.
For Obama supporters, it would then seem very unfair for Democratic bigwigs to strip him of the crown.  Indeed, in light of the controversy over Reverend Wright, as Chuck Todd of NBC argued yesterday, African-Americans might read such a move as Democrats trying to protect their white vote – an interpretation that could shatter the party.
That's why Clinton is trying so hard to keep prospects alive in Michigan – and even Florida. And why she is stepping up pressure on Obama by blaming him if they don't take place. Efforts to blame him over the Florida fiasco seem entirely misplaced: The opprobrium belongs to Charlie Crist and the Republican legislature and remember, too, that both Clinton and Obama supporters in Congress and the state legislature didn't like the re-do plan. In Michigan, it was a Democratic governor who supports Clinton who signed on to the early primary and helped to create this mess. Clinton can hardly claim clean hands here, either.
This is getting down in the weeds, but if you are a political junkie, bear with me for a moment. Even though her own supporters helped to create the Michigan mess, Clinton does have a good argument that Obama partisans are dragging their feet on a re-do there. But the Obama people have a legitimate rebuttal that people who voted for the GOP candidates earlier this year should not be banned from voting in a re-do in Michigan – that is only fair. If the Clinton folks would drop the ban, Obama folks should support the re-do – or face appropriate fire for standing in the way.
If at the end of the day, the re-dos disappear in Michigan and Florida, Clinton still has one hope – and not a very appealing one for anybody: That because of the Reverend Wright affair, the bottom completely drops out for Obama and he loses big not only in places like Pennsylvania and Indiana but also in North Carolina, where he has been ahead.  That is a scenario that would bring shutters to much of the country that has a more elevated view of what America is all about.
Personally, I just don't think it will happen that way but there are others who disagree with me. We shall see. We are learning a lot in this campaign not only about the candidates but about ourselves. 
– David Gergen, CNN Senior Political Analyst
Program note: Watch David Gergen share his analysis with Anderson Cooper on tonight's 360° at 10p ET