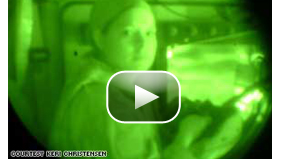 Veteran Keri Christensen was nearly a victim of a roadside bombing in Iraq when the convoy in front of hers was hit. Here's part of her interview with Randi Kaye.
More than 180,000 women have served in Iraq and Afghanistan, and they'd be happy to know so many of you care about them.
In my blog yesterday, I shared with you the story of Keri Christensen, a former member of the National Guard who served in Iraq and is now suffering from Post Traumatic Stress Disorder (PTSD). She's married and the mother of two adorable little girls, Madison and Oliva.
Keri has nightmares about body parts falling on her, she has thoughts of suicide and panic attacks, and sometime she's so anxious she can't even remember her home phone number...
Her story got such a tremendous response. Nicholas wrote, "My heart breaks for you. Your struggles are my own. And though I may never really know you, Keri, I want you to know, you have my love, and my heart."
A male veteran, Richard, wrote, "I am also an Iraq vet and have PTSD, it took me 2 1/2 years to finally get my VA claim…. someone in Congress needs to help us."
That's the problem! For women especially, this is an historic time. Keri and so many others are making history as the first women "combat veterans" and the U.S. government doesn't really have an official program in place to treat their unique needs. In the past, like in Vietnam, women served as nurses, and back then there were only about 7500 of them serving. In the brief Persian Gulf war, about 41,000 women were deployed.
Today, even though women are assigned to "combat support missions" they are in the thick of the violence and it is affecting them both physically and mentally. In 2006, the Veterans Administration diagnosed nearly 3,800 women with PTSD.
And as I mentioned on the last blog, which really disturbed so many of you, women serving today find themselves in many cases to be victims of sexual offenses, both harassment and assault. It's so prevalent experts have given it a name: Military Sexual Trauma, or MTS.  Keri told me she was harassed by a fellow soldier who made comments about her breasts and propositioned her for sex. The military told CNN the complaint she filed had "no merit."
In response to that, Kevin wrote, "The military would deny the existence of the moon if it served their objectives." And Mechelle had this thought, "I don't believe women should be in combative roles. If they are unable to defend themselves from fellow soldiers, in friendly situation, how will they be able to defend themselves from an enemy during combat?"
And then there was this response from Kathryn: "It's common knowledge about women being sexually assaulted in the armed forces. Did she believe war was going to be a picnic? I'm as sympathetic to her as I would be to any soldier having PTSD, but surely she knew the risks before she ever decided to join the Guard. She didn't have to join, & she should not have."
So many interesting ways to look at this topic of women in combat.  The V.A. reports between 2002 and 2007, nearly 22 percent of women veterans had experienced some type of military sexual trauma. 22 percent!!! Who is going to help these people? There are some programs around the country but just as the hospitals weren't prepared for all the male veterans who needed counseling or who were considering suicide, they are still trying to figure out how and what to do with these women. 
Melissa's comments really spoke to that. She wrote, "After all the sacrifices we make for everyone else's services surely we should be able to receive whatever help we need to readjust to life as a civilian. After all we rehabilitate criminals and work to reintroduce them to society why is this so hard to do for such selfless individuals as our soldiers."
And Katherine added, "It will take eons, unfortunately, for the military and the VA to find a solution to sexual harassment or trauma to our woman vets. It took me 36 years to admit to anyone that I was raped while serving as a non-combat Vietnam era marine."
Let's hope it doesn't take eons. Women like Keri Christensen may not have that kind of time..
– Randi Kaye, 360° Correspondent
Editor's note: Find out how you can help at Impact Your World