She doesn't drive more than two miles from home. She's afraid her minivan is going to hit a roadside bomb.  She has thoughts of suicide, nightmares about body parts falling on top of her, and sometimes can't even remember her home phone number.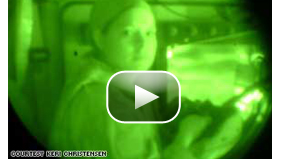 Veteran Keri Christensen was nearly a victim of a roadside bombing in Iraq when the convoy in front of hers was hit. Here's a preview of her interview with Randi Kaye.
This is what life is like for Keri Christensen. She served in Iraq for the National Guard. Her job was to haul tanks up and down the country's most dangerous roads. She was shot at by snipers and witnessed the convoy in front of hers blow up. That terrified her. She told me, "you have this fear, oh my god, I still have to go through there… and am I gonna make it?"
I first interviewed Keri in November 2006. She was part of history then, among the first group of women in the history of the United States classified as combat veterans.
Female troops technically are only allowed to do "combat support" but women are seeing violence like never before, and it's leaving them with battle scars, both inside and out.
Keri was diagnosed with Post Traumatic Stress Disorder, or PTSD, before she left the war zone. She's been home now two and half years and is still struggling. Last fall, she hit rock bottom. Again, she thought about killing herself after another panic attack.
I asked her what "rock bottom" feels like, and she said "a very dark, lonely place."
Keri is married with two little girls, Madison and Olivia.  She says her kids know she's not the same "mommy" she was when she left for war. They know she's going to counseling once a week and also group therapy. She's taking all kinds of pills for her nightmares, PTSD, anxiety and depression.

She says she never needed any of that before the war. There have been some improvements. Keri no longer has imaginary conversations with her husband, which she was having when she first got back, and she's sleeping about six hours a night, a step up from the four hours she'd been able to manage.
Still, she never goes far from home because her sense of direction gets foggy, and is terrified when her husband drives. She told me, "when my husband drives, if something is on the road like cardboard, I'm like don't run over it, don't run over it, when he does, I'm like (gasps)"
In 2006, the Veterans Administration diagnosed nearly 3,800 women with PTSD. But some women's stress is compounded by sexual trauma in the military.  Keri says she was sexually harassed while serving, though the military tells CNN her complaint had no merit. Still, the VA reports between 2002 and 2007, nearly 22 percent of women veterans had experienced Military Sexual Trauma, or MST, which includes sexual harassment and assault.  
One expert, who councils women veterans, says the numbers are even worse. She says many women are afraid to report their attacks and their attackers. 
Darrah Westrup with the National Women's Trauma Recovery Program in San Francisco says, " the same indivduals who attacked you are those who will be protecting you or you'll be fighting along side you the next day." 
Can you imagine?
Like many in this new class of women soldiers, Keri is learning to live with the scars she brought home. I asked her, though, if she has any hope that one day she'll return to the woman she was before she went to war. She told me, simply, "I don't think we'll ever be the same."
– Randi Kaye, 360° Correspondent
Program Note: Watch Randi's report, tonight on 360° at 10 p.m. ET