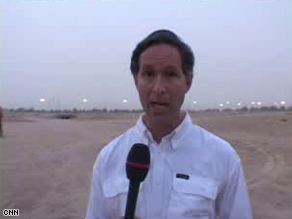 Gary Tuchman reporting from Iraq
On March 19th, 2003, I was near the Iraqi border, at a military base being used by U.S. forces.  I was an embedded reporter with the Air Force, but troops from the Army and Marines were also stationed at the base that was once occupied by Saddam Hussein's troops during the invasion of Kuwait.  But that was ancient history to many of these troops. The 18 and 19 year olds I was with were 6 and 7 during the invasion of Kuwait. Now, the overwhelming feeling among the troops was the moment of truth had arrived.
The war planes, with flames blowing out of their tails, were taking off at ear splitting decibels one after another into the night sky for bombing missions over Iraq. The patriotism level was high; but the fear was palpable. All knew that the stated reason they were here is because the government of Iraq had refused to give up its weapons of mass destruction. What was mostly left unsaid was that if Saddam Hussein was going to use those chemical or biological weapons, this was the time; and there was no more strategic target than the busiest U.S. airbase in the theater of operations; the one we were at.
All the troops (and journalists) had chemical masks and suits. We all went through training. If there were such an attack, we would have seconds to put on the gear correctly; any delay could be fatal. On that very first day, within hours of the air war beginning, we heard our first air raid siren. The siren meant a missile or a rocket fired by the Iraqi military was minutes away from landing in our general vicinity unless it was shot down first by a Patriot missile. But if it wasn't shot down, everyone on that base knew this could be the worst case scenario they had trained for.
Chemical gear went on; everyone hustled to outdoor bomb shelters. And then we all stared at each other. We couldn't see each others faces with the masks on, but I could see eyes. And the eyes of some of these troops, particularly the young ones, told you all you needed to know. Fear.  This was the real thing. We heard a boom; and waited for what seemed like an eternity.
Finally, the word came. A missile had landed. Nobody had been hurt, and it was only a conventional weapon. The masks came off and I saw smiles. But only for a short time. About an hour later, another siren; another run into the shelter. And once again, only a conventional weapon. Over the first few days of the war, we had dozens of sirens. The masks and suits had to stay with us at all times. Once when I was in the shower, the siren went off, and on went the mask within seconds. It didn't take long for most of us to realize that if chemical or biological weapons hadn't been used yet, then perhaps they weren't going to be used at all. Or perhaps Iraq really did no longer have them.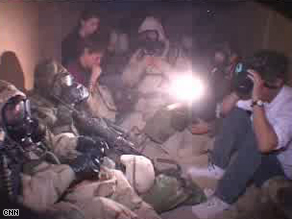 Gary Tuchman (right) in bomb shelter, placing on gas mask after report of an incoming missile.
My photographer Damir Loretic and I flew on missions aboard war planes. We flew at high speeds at altitudes of 500 feet above the ground to avoid Iraqi radar. Shots were fired at the planes. Seeing fiery rockets intended for one's aircraft is quite a startling sight; particularly to a journalist. But they were wildly inaccurate. As the days went on, there was a victorious feeling among the troops.  We actually saw Iraqi citizens waving happily from the ground at the U.S. pilots as we flew 500 feet above their heads. When we set up camp at a new U.S. base in the Iraqi city of Talill, a statue of Saddam Hussein ended up being the backdrop for a multitude of triumphant pictures by the troops. Hussein still hadn't been found, but the prevailing feeling was his capture would be imminent, the war would be over, and everyone would go home soon.
Fast forward to the present. On my most recent visit this past September, I saw the same patriotism among the troops. I even saw some of the same troops. We looked at each other with a "would you have ever thought we'd see each other here all this time later" look. Saddam Hussein had of course been caught and already executed. But the war continued. The concern over "weapons of mass destruction" was gone. However, what replaced it was the concern that random deadly violence could occur anytime, anywhere.
Photographers Damir Loretic, Jerry Simonson and I spent time with Air Force troops who travel via tank convoy several days a week into the Sunni Triangle to help train local Iraqi police forces. The mission is incredibly hazardous. Every vehicle that is seen on the side of the highway is considered a possible insurgent.  The problem is virtually every motorist pulls over to the side of the road in order to stay out of trouble when a U.S. military convoy comes by.  There are so many vehicles on the side of the road, it is impossible to know who is good, and who might be bad. Just weeks before we were with these troops, one of their own had been hit by an IED as he operated the turret on the top of the tank. He was killed.  These troops were still in mourning while they were travelling down the exact same dangerous highway where their friend was hit. When we arrived in a small town near Tikrit where the police training was taking place under security you will never ever see anywhere other than Iraq, I asked these troops to talk to me about this war. What has stayed with me during that conversation and others I had on this visit is this: many are just not sure what their goal is.
Morale was very high when I was there during the first month of the war. Get rid of Saddam; get rid of the weapons of mass destruction; and then the coalition wins.  But now, they are deployed under great risk without a clear idea what it takes to end this war. That lack of a "finish line" is a psychological hurdle that affects morale for many of these troops.  Just before we left Iraq this most recent time, we visited a U.S. military hospital that also treats civilians, and even insurgents. I sat with a precious little Iraqi girl who had accidentally been shot in a firefight between U.S. troops and insurgents. The father of the little girl told me he doesn't blame the Americans; that accidents happen. As an American, I was pleased he was so forgiving. As a father, I wonder if I would be.
– Gary Tuchman, 360° Correspondent
Program note: Anderson takes a look back at the start of the Iraq War and where it stands now
Saturday & Sunday on 360° at 11p ET: "Shock & Awe: 5 Years Later" WATCH A PREVIEW