I just finished interviewing Senator Obama, we talked at length about lingering questions surrounding Reverend Wright, as well as how he thinks the controversy has hurt him.
Here is a brief exchange:
_________________
Anderson Cooper:
"How badly do you think this has– has damaged you?  Obviously you've been taking it very seriously over the last couple days.  I mean, you've been very available to the media.  You made this speech yesterday.  How much has it hurt?  'National Review online' says, you know, bottom line, will the speech help you win white working-class voters?"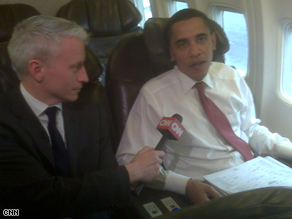 Anderson Cooper interviews Presidential candidate Sen. Barack Obama on (and above) the campaign trail as they fly to Charlotte, North Carolina. Watch the interview tonight on 360° 10p ET
Sen. Barack Obama:
"Well, you– you know– one of the things I said early on in this campaign was if– if I was just running the textbook campaign– doing the conventional thing, I probably wasn't gonna win because Senator Clinton was gonna be much more capable of doing that than I would be.  We had tremendous success– and I think we were starting to get a little comfortable and conventional right before Texas and Ohio.  And, you know, in– in some ways this– this controversy has actually shaken me up a little bit and gotten me back into remembering that– the odds of me getting elected have always been– lower than– than some of the other conventional candidates..."

"...And if I bring something to this conversation, it's gonna be because I do what I did yesterday, which is hopefully open up new conversation about a new direction of the country.  As a practical matter in terms of– how this plays out demographically, I can't tell you.  I don't know. "
_________________
I'd blog more but our plane is just taking off, we're heading to Charlotte...see you from there tonight.
– Anderson Cooper