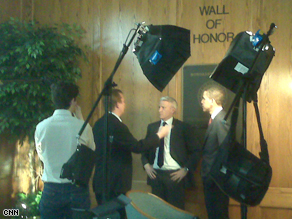 Anderson on the campaign trail with Presidential candidate Sen. Barack Obama. Watch tonight on 360° 10p ET
As you've probably seen, Anderson is on the trail with Sen. Barack Obama today. This time his trail takes the show to Charlotte, North Carolina. Specifically, we'll be on the campus of University of North Carolina at Charlotte. 
 
I've been walking around campus all morning and the election is definitely the buzz.  In past elections, there's always been talk of the "youth vote," yet it has never materialized the way experts have predicted.  This year has seen an increase in campaigning for the youth vote through social networking sites like 'Facebook' and 'MySpace.' Some campus leaders I've spoken with say those sites are helping to energize the college-aged crowd…
It is helping to generate more interest in the actual candidates and issues.  There's a heightened interest on the issue of the economy and on the issue of Iraq, on a day that marks the 5th anniversary since the war began. 
I'm anxious to see if this materializes into big numbers among the "youth vote" in November. 
 
Anderson will hit these issues and many more during his interview with Sen. Obama.  Tune in tonight as we are live on the beautiful campus of UNC Charlotte.  The 49rs are ready for Anderson!!
– Kay Jones, 360° Booker
Program Note: Watch Anderson's report from North Carolina , on the campaign trail with Barack Obama, tonight on 360° 10p ET.