Hundreds of war protestors took to the streets in San Francisco today and my CNN crew and I became part of the story, albeit briefly. It happened as we were videotaping a group of about 50 protestors lying down on Market Street, one of the busiest and most well-known streets in downtown San Francisco.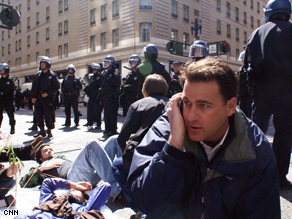 Dan Simon reporting while being held by police during Iraq war anniversary protest in San Francisco
Police, understandably, wanted to clear the street to allow traffic to pass. They shouted an order for the group to disperse and said they'd arrest anyone who didn't immediately leave.
Apparently, that meant reporters, photographers and producers as well. We were stunned when we realized that we were being lumped in with the protestors; the officers wouldn't let us leave.
It's a bit disconcerting to be held against your will and threatened with arrest, especially when doing your job.  We had credentials, cameras, and microphones.  It was clear who we were; about six other journalists were in the same boat.
After about 20 minutes or so, our CNN attorney was on the case, speaking with the police. They let us go with basically a warning.
Police have a tough to job to do, especially controlling a crowd of anti-war activists. Some of the protesters threw water balloons filled with fake blood. Others chained themselves to businesses they called "war profiteers." Police had every right to arrest those people and those who were blocking a street.
We were doing OUR job by watching them do THEIRS. Bottom line – I think I'll be a lot more careful where I'm standing next time I'm covering a protest.
– Dan Simon, CNN Correspondent