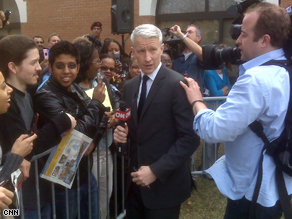 Anderson on the ground in North Carolina and on the campaign trail with Barack Obama. Watch tonight on 360° 10p ET
We are with Senator Barack Obama on the campaign trail in North Carolina today. As we all know, it's been a tough week for Obama, and after yesterday's speech on race he is hoping to turn the focus to Iraq.
Lingering questions remain about Sen. Obama's relationship with the controversial Rev. Jeremiah Wright, and we'll talk with him about those questions, as well as Iraq, the economy, and the campaign.
On a personal note, I've been off for the last couple of days. I had minor surgery on Monday. A small spot of skin cancer was removed from under my left eye. I hadn't planned on mentioning this, but I still have stitches and you'll no doubt notice them tonight. Don't want you to think I got into a fist fight with Charlie Rose.
– Anderson Cooper
Program Note: Watch Anderson's report from North Carolina , on the campaign trail with Barack Obama, tonight on 360° 10p ET.