Today in Philadelphia, Senator Barack Obama talked a lot about race and politics WATCH, but when you look at the numbers, it may be white men who decide the fate of his campaign.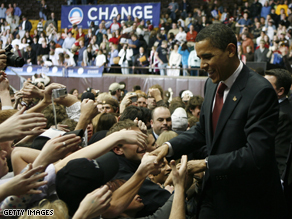 Neither Obama nor Senator Hillary Clinton have been able to secure the white man's vote, a voting block now considered to be swing voters.
Turns out, working class white men make up nearly one quarter of the electorate, outnumbering African-American and Latino voters combined.  In 27 states where exit polls were conducted, Clinton won the white male vote 11 times, Obama won it ten times. In five states, they basically split the votes of white men.
The allegiance of these guys, generally defined as union members making less than $50,000 a year, is clearly still up for grabs and the candidates know it.
In Philadelphia, the union members I talked to for my story on tonight's 360°weren't exactly shy about making their positions known.
Rick Czyzewski, a steel worker and member of Local 19 Sheetmetal Workers union here in Philadelphia, told me he's voting for Clinton.
When I asked him what it will take for Obama to win the working class white man's vote here, he said, "He's gotta come out and talk to us and tell us what he wants to do with the economy. I don't know if he said anything. All I hear is, change, change, what type of change does he got for us? I don't know. Is he gonna tell us he wants more construction jobs."
Here in Pennsylvania, working class male voters make up about 27 percent of the voters. Obama won the white man's vote in Wisconsin and Virginia, but he badly lost working class white men to Clinton in Ohio and Texas just a couple of weeks ago.  Did Race play a role? In Ohio, 27 percent of working class male voters said race did play a role in choosing Clinton.
Czyzewski said race doesn't play a role for him, adding "I'm a union individual I'm thinking about what they can do for my union. I think the dems are split between Obama and Hillary and I think Hillary is a better union person than Obama is."
I asked roofer Bob Merk, a Clinton supporter here in Philadelphia, what he thinks about the race factor.  He told me, "I don't think race is an issue at all... I don't care if he's black white or green, I would vote for him."  Merk told me Clinton has his vote unless Obama starts "standing up for the working man." He says, "I'd want to hear a guarantee of jobs, that the price of gasoline is gonna come down, I want to hear about better schools for my kids."
Some analysts have suggested Obama needs to talk more about his experience as a community organizer on Chicago's South Side, where he worked with steelworkers and their families. Maybe even spend more time in VFW halls listening and relating to the working class voter. There's talk within his campaign reportedly of working to show he is a bottom-up grass-roots person who has been about fighting for people who were squeezed out of jobs.
– Randi Kaye, 360° Correspondent 
Program note: Watch Randi's report tonight on 360° at 10p ET and read other blogs from the 360° team of contributors at cnn.com/360