March 19th marked five years since the start of the Iraq war. I remember the moment the war started, and exactly where I was... I had been working at CNN for a short time. The mood in the newsroom that day was tense, yet oddly quiet. I had been running around gathering research, printing the latest wires... waiting for word from Baghdad.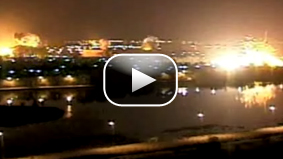 AC 360 takes a look back at the start of the Iraq War and where it stands now five years later. WATCH: "Shock & Awe: 5 Years Later" airs Saturday & Sunday, 11p ET
...and then, I heard it... Not the explosions we've all come to know as 'Shock & Awe,' but a voice... It came over CNN's breaking news intercom system. The voice alerted us that an offensive was underway, bombs had been released… the war had begun.
I was standing in the newsroom with one of our guests, William Cohen, the former Secretary of Defense... That in itself was a 'Shock & Awe' moment for me... Here I am, standing with a man whose successor was... literally at that exact moment... at the helm of the invasion of Iraq ... and we are both hearing this news at the same time.
To make things even more surreal, I knew the nation had gone to war before the nation even knew. What a strange feeling. It's like the news breaks twice... you know something that has yet to be broadcast to the world, and you wait for it to happen all over again, on-air… re-living it with the viewers.
The rest of that night was a nonstop blur – running from one area of the newsroom to the other, jumping in and out of editing rooms, printing everything I could, passing along news to William Cohen… I think I left work at 3 in the morning, but it's the start of that night I always look back at.
We would love to hear what you have to say about the war: Where you were at the time? What was the biggest moment for you? The biggest success? The greatest failure? Where do we go from here?
– David Reisner, 360° Digital Producer
Program Note: Watch an AC360° special, "Shock & Awe: 5 Years Later" Thursday 11p ET.