Over the next several days, we will chatter a lot about the political fallout from Sen. Barack Obama's speech today.  My initial sense is that he may have lanced the boil but he will continue to feel some pain from his association with the Reverend Wright for a while to come.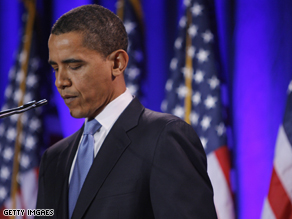 But even as we dissect the politics, is it possible to stand back and make a different set of observations: From my perspective, watching alone from a hotel in Florida, I found it refreshing to have a political candidate who finally talks to us as mature adults and also appeals to what Lincoln called "the better angels of our nature."
We have become so accustomed to political "leaders" who treat us like children, spoon feeding us with platitudes and playing upon our prejudices, that we forget what it is like to have a serious conversation about our challenges as a people.  One important role of a leader is to serve as an educator, clarifying how we have arrived where we are and what our choices are as we look toward the future.
Obama did that well today.
Listening to him, I was reminded at one point of Franklin Roosevelt's observation that the presidency is preeminently a place of moral leadership – a place where men like Jefferson, Jackson, Lincoln and Teddy Roosevelt have clarified the great moral choices of our history.
This speech will not enter Bill Safire's anthology of great oratory.  It was too larded with his standard campaign rhetoric toward the end.  It will not end the controversy. It will not answer questions about whether he and his team are truly ready.  And for those who remember how another man who made serious speeches, Adlai Stevenson, went down to defeat to a war hero, it brings no guarantees of electoral success.
But at moments, it was an eloquent and moving expression of who Barack Obama is and what he represents - and how, just maybe, we could address and one day overcome our "racial deadlock".
– David Gergen, CNN Sr. Political Analyst
Program note: Watch David Gergen's analysis on tonight's 360° at 10p ET