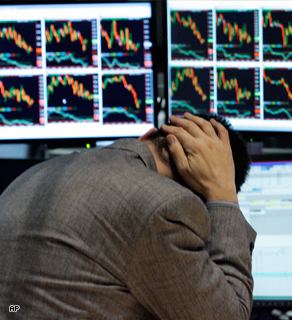 All three presidential candidates have moved in the past few days to put their campaigns on better footing. And from their perspective, they are probably pleased with the results. But it remains a mystery why they continue to duck the most urgent problem the rest of the country faces: a possible meltdown in our financial system.
John McCain is off in Iraq, and to be sure that is and will continue to be a major challenge. He is not only strengthening his credentials as a statesman – showing far more gravitas than his rivals squabbling on the other side – but he is also making effective political arguments about how wrong the Democratic leadership was on the surge.  Even as Baghdad was rocked by explosions today, McCain seemed "presidential."
With the fifth anniversary of the war coming this week and McCain about to frame the argument, Hillary Clinton moved smartly this morning to provide her own counter-argument to his.  Her views are subject to debate, but from a purely political perspective, she was shrewd to jump in and go toe-to-toe with McCain on national security.  Once again, she has gotten the jump on Barack Obama when it comes to unfolding arguments about policy.  His political team has often outfoxed hers, but her policy team has been much more on the cutting edge.
Meanwhile, Obama has moved smartly to dampen down the controversy about his former pastor.  His association is almost certain to reverberate for a long time on the web and in personal conversations, but he has been adept at facing it head-on in the press – witness his interview with Anderson on Friday – and as a result, the mainstream media is giving it fairly minor play. 
In an interview with the Chicago Tribune, Obama also showed important self-awareness, acknowledging that he allowed his message to grow "stale" ahead of Ohio and Texas, and he indicated that he is now trying to clear the decks of personal controversies so that he can go on a fresh offensive in the next few days.  It helped that he picked up important new delegates over the weekend and that Nancy Pelosi gave him a lift on how to resolve this in the end (Does she think that Obama on the ticket would elect more Democrats to the House?)
Even so, for all this successful maneuvering by the three candidates, it remains stunning that they are so silent – and so leaderless – on the burning issue of the day: a  financial mess that holds an ominous threat for tens of millions of Americans.  Just this morning, Alan Greenspan wrote in the Financial Times: "The current financial crisis in the US is likely to be judged in retrospect as the most wrenching since the end of the second world war." 
Where in the world are McCain, Clinton and Obama on this?  (For that matter, where is George W. Bush?)   What understandings and prescriptions do they have to offer?  Who are they turning to for economic counsel who might be coming with them to the White House?  How will this crisis affect their promises for taxes and spending?  Some 25 state governments are now facing budget shortfalls for the next year.  What will the candidates plan to do as deficits soar in Washington? 
It's 3 a.m. in America now, and Wall Street is calling…  Anybody home? 

– David Gergen, 360° Contributor