We had been working on this story all day  – the controversy over Barack Obama's pastor, Rev. Jeremiah Wright.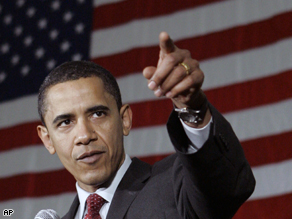 Anderson talks with Democratic Presidential candidate Sen. Barack Obama, responding to his pastor's firestorm of controversy. 360° Tonight, 10p ET.

Rev. Wright recently had this to say, "Hillary was not a black boy raised in a single parent home, Barack was.  Barack knows what it means to be a black man living in a country and a culture that is controlled by rich white people. Hillary, Hillary ain't never been called a n*****!  Hillary has never had her people defined as a non-person."
Harsh words from a man Obama has called his spiritual mentor (he officiated the Obamas' wedding and baptized their two children).  Yesterday, Sen. Obama was not commenting, so our plan for tonight was to run a story looking at the history of this kind of rhetoric in black churches and what Rev. Wright's comments could mean for the his most famous congregation member.
But late in the day, the Obama campaign had a change of heart, offering up the Senator himself to address the issue.  So we'll have that tonight, Anderson and Senator Obama responding to his pastor's firestorm of controversy.
Program note: Anderson Cooper 360° airs live at 10p ET on CNN