Bloggers!
It's Friday! It also happens to be Pi day! (That would be "π"day: 3/14... a holiday held to celebrate the mathematical constant. I'm not saying I celebrate it or anything... I'm not saying that you should designate your Friday night as 'math night' ... But if you're out for dinner tonight... for dessert? Maybe try the pie)
It's also time for 'Beat 360°.' Everyday we post a picture – and you provide the caption. Our staff will get in on the action too.
Tune in every night at 10p ET to see if you are our favorite! Can you Beat 360°?
Here is today's "Beat 360°" pic of the day:
Here we have President Bush with former Secretary of State Henry Kissinger after the president spoke about the economy during an addressing before The Economic Club of New York in New York: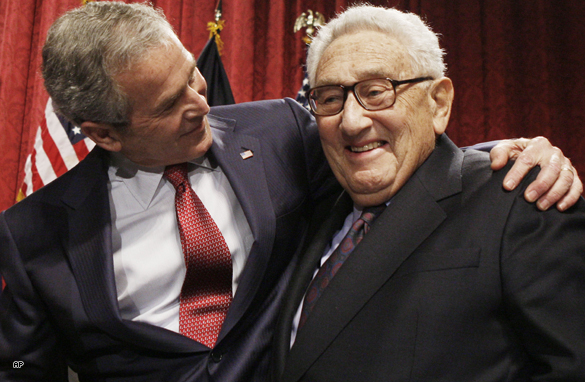 Have fun with it.
Make sure to include your name, city, state (or country) so we can post your comment.
– David Reisner, 360° Digital Producer