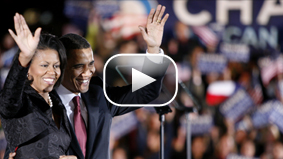 Up close with Barack Obama's wife Michelle. They've been married for 15 years. But before they got serious, she put him to the test. Here's a preview from Randi Kaye.
She's been dubbed "the closer".  That's because Michelle Obama has proven an effective fundraiser and campaigner in her husband's presidential quest.  But that wasn't always the case.
It took some promises and some bribes – a promise by him that he'd stop smoking, and a pledge to their two young girls that win or lose, they get a puppy out of the deal.
Now that she's on board, she's doing every thing in her power to win and as she puts it "keep it real".  Some have suggested she may be keeping it a little too real.  Her candid comments about her husband's dirty socks and body odor have gotten her in trouble, as well as this bombshell, "For the first time in my adult lifetime I am really proud of my country."
Michelle's older brother Craig Robinson (an accomplished guy in his own right – he's head coach of the men's basketball team at Brown), tells us with Michelle, what you see is what you get.  He also says she's pretty thick-skinned, "When it's on her she handles it just fine…When it comes to criticizing Barack or somebody else in the family, or someone she really cares about, she is the best person to have in your corner." Her candor is certainly a change from previous first lady contenders, and while some pundits have bashed her for it, others have called it refreshing.  And voters are lapping it up, packing in by the hundreds to hear Michelle Obama speak.
For a reluctant campaigner, she's putting up a fight now, which comes as no surprise to close friend Valerie Jarrett.  "If Michelle tells you she's going to do something, not only is she going to do it, but she's going to blow it out of the ballpark," Jarrett told us.
That kind of determination seems to be a hallmark of Michelle's life.  Michelle's older brother Craig Robinson tells us his sister's work ethic was ingrained from childhood.  Craig and Michelle were raised in a one bedroom, one bath apartment on the South side of Chicago.  Their father had multiple sclerosis and worked for the city.  "We watched a man who was disabled get up and go to work every day," Craig told us, "and if my father was ever disappointed with us the whole house would be in tears."  Their mother stayed home and looked after the kids.  Craig says despite a modest upbringing, it was a happy one, full of family dinners and drive-in-movies.  "We didn't know how poor we were, so it was terrific," 
Michelle's brother also told us that in high school his sister had good grades, played the piano and wrote short stories.  She was also class treasurer but despite her tall, athletic frame, she didn't play sports.  Craig says people would tell her she should try out, which was the best way to ensure his strong-willed sister didn't do something.  
Craig made it to Princeton on a basketball scholarship – a few years later Michelle followed him there.  As Craig tells is she figured, "if Craig can get in…I certainly can.  So she applied, and got in."  At Princeton, Michelle majored in Sociology and minored in African-American studies.  Her thesis – under lock and key until recently – was titled "Princeton-Educated Blacks and the Black Community."  In it, her struggle with her identity and ambition is apparent.  She wrote, "My experiences…have made me far more aware of my blackness than ever before....I sometimes feel like a visitor on campus."
Michelle would go on to Harvard Law School, and after graduating took a job at a Chicago law firm.  That's where she met Barack Obama.  He was a summer associate, she was his mentor.  Barack finally persuaded Michelle to go out with him (Spike Lee's "Do the Right Thing" was their first date).  Michelle's brother told us that she was notoriously fickle with men – never keeping them around for very long, and that the family had bets on how long the new guy would last.
As it turns out Michelle was interested enough in the "new guy" to enlist her brother's help.  She had a "gauntlet" to run through as her brother puts it.  What was the big test?  Watch the piece tonight to find out the rest of the story.
– Catherine Mitchell, 360° Producer
Program note: Watch Randi Kaye's report on Michelle Obama
on tonight's 360° at 10p ET