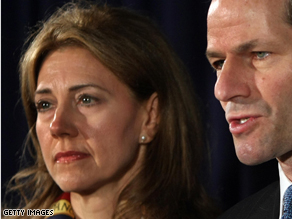 It must be excruciating for Silda Spitzer to wake up to today's news coverage:  Photographs and the life story of her husband's prostitute plastered all over the New York tabloids and cable television.
Having endured the public humiliation of literally standing by her man twice in the last three days as he confessed to betraying her, now she can see the 22-year old face and bikini-clad body of the Ashley Dupre, for whom Eliot Spitzer paid thousands of dollars for sex in the Mayflower Hotel the day before Valentine's Day.
It's far more than any of us wanted to know, that our Harvard Law-educated middle-aged governor turned away from his loyal, attractive, Harvard Law-educated middle-aged wife and was willing to risk his career and his family's dignity for sex with a young woman only a few years older than his teenaged daughters.
Eliot Spitzer had only one year ago wholeheartedly supported and signed into law a tough new law against the sex trade.  Advocates of the law say that they believed that Spitzer "got it," that prostitution exploited vulnerable women, and that prosecuting johns was the most effective way of cutting off the demand. 
Ashley Dupre says on her MySpace page, with a 21st century young person's typical nonchalant attitude about personal revelations on the internet, that she was abused as a child, that she'd been homeless.  If so, she's a typical profile for a prostitute, 50 to 70 percent of whom were abused as children.  One study found that sexually abused children were 27 times more likely to be arrested for prostitution than nonabused children.
This is the kind of thing Eliot Spitzer knew.  Yet he chose to be part of the demand side, part of the economy that offers up prostitution to Dupre as a better option than singing, what she really wanted to do.
He had to turn off his brain to not only the fact that he was cheating on his wife, breaking the law, and exposing himself to public humiliation, but economically fueling an exploitive industry that preys on abused young people.  He had to not think about her as a full human being who had to pay the rent, with hopes and dreams and a history, but instead, just size her up like a commodity:  5' 5", brunette, petite, 105 pounds.
He had money to spend, she had a body to sell, and that had to be the end of the thinking for him, as for all johns, because if they think too hard on the question of why she's there, it's would be the ultimate turn off, wouldn't it?
– Lisa Bloom, "In Session" Anchor/360° Contributor