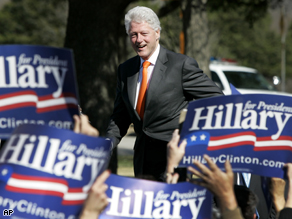 Bill Clinton on the campaign trail.
The best known person on the presidential campaign trail is not one of the candidates for president.
Bill Clinton in many ways is larger than life.  We followed him this past week in Pennsylvania and Mississippi as he campaigned for his wife.  What we found out firsthand is this: Most people come to his rallies because they support Hillary Clinton for president.  But Bill is the star they want to see.
Yesterday, we were backstage with the 42nd president at a high school gymnasium in Erie, Pennsylvania.  He had the flu, so he wasn't feeling very good.  But as he came from behind the curtain, walked on the stage, and heard the cheers of the packed gym, it seemed to reinvigorate him.
Yes, Clinton praised his wife and did what was expected of a presidential surrogate.  But when a heckler started criticizing him personally, he sounded like he was the candidate.  He raised his voice, spoke emotionally, and defended his administration's accomplishments.  The crowd went nuts, and for a little bit, it felt like the 1990's again.
Clinton received negative press earlier in the campaign when he criticized Barack Obama and downplayed Obama's success.  That controversy may have softened his edge.  He told the crowd in Erie that he "(loves) all the Democrats. I even miss the ones who are no longer in the debate."
When his speeches end, he dives into the audience and signs autographs and poses for pictures. Just like during his presidency, he is generally quite late for campaign appearances. But he showed up right on time for an appearance last night.  It was a private fundraiser at a museum in Philadelphia.
Keeping donors waiting is not a good idea.  He told the attendees that his wife is the candidate with the momentum.  He left Philly and headed back home to New York to rest up and recuperate.  Next week will likely be another busy week in Pennsylvania.
– Gary Tuchman, 360° Correspondent