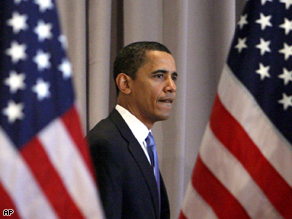 It's been said that the Clintons are lucky in their enemies. In Geraldine Ferraro, half of one of the most disastrous candidacies in presidential history, Barack Obama has hit a goldmine.
Not only is Ferraro defending her comments by demeaning her own political career, she's fighting to become known as one of the most partisan racial theorists in politics.
Lucky, indeed. Ferraro's graceless remarks present Obama with an opportunity to reach the very people who might be listening and nodding their heads.
The answer is simple and on message. Barack is lucky, and he should say so.
He's lucky to be an American, a citizen of the greatest nation in human history. He's lucky and blessed to have a smart and beautiful wife who loves him and sustains him, two strong and healthy daughters he has the privilege and responsibility of raising.
He's lucky to be on the campaign trail meeting his fellow citizens everyday and asking them to spread his message, "Yes we can."  And with luck, hard work, and the support of the American people, he hopes to bring that message to the White House.
Hillary - over to you.
-Amy Holmes, 360° Contributor