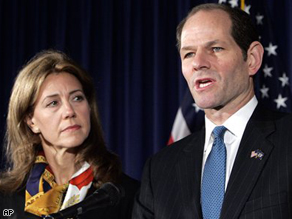 By now you've heard that Eliot Spitzer has stepped down as Governor of New York.  But he still could face serious criminal charges, and that got me thinking about prostitution.
I've tried a lot of those cases. And here's what you learn right away: as much as the sex trade is about sex, it's also about trade. Business. Supply and demand.
Where I practiced law in California, the criminal code is gender neutral. It targets anyone engaged in the commercial sex trade. The girls, their johns, even the pimps when you can catch them.
Not so here in New York where the women involved in prostitution have long been treated more harshly than the men. But Eliot Spitzer changed all that, with a new law that increases penalties for the men who solicit sex.
The thinking?  Cut off demand and supply will dry up.  And that's the tragic irony. Now, it seems, Governor Spitzer may be one of the very johns his new law seeks to punish. 

– Jami Floyd, "In Session" Anchor/360° Contributor